Lilly vs. Rattlesnake (part 2)
Lilly may not be feeling a whole lot better after the rattlesnake bite, but she looked much better when we visited her this morning. Here's the latest: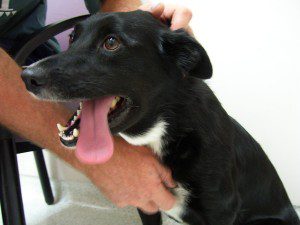 Her lip looks much better. Last night, in the thick of things, she looked like the side of her face was going to pop from the pressure of the swelling. Today, it's just kind of droopy, like a turkey waddle … down into her neck.
This morning's blood tests do show some spikey red cells, but not a ton. So, the thought is that it was a relatively "dry" bite, meaning not a lot of venom was transferred. That's excellent news.
The hard part is that she's completely wigged out and flinching at every door slam, every voice, every little thing she sees and hears.
I talked to Jennie (our behaviorist) this morning, and she says there's nothing I can do to make it better right now. It is what it is. But, on the chance she has to stay one more night, I brought her anxiety meds to the hospital. Missing a dose or 2 isn't a big deal, but I don't want her brain chemistry levels to get too low.
Today's doctor on our case is feeling pretty optimistic about Lilly getting to come home tonight. She said to call around 4:30 pm to find out if Lilly can come home.
More later …