Lilly & Pitsch Train and Play
We haven't worked with Pitsch, Lilly's "Control Unleashed" training buddy for a couple months because he and his mom Betsy were busy trialing. Gotta say, he's been on FIRE. We're waiting for the official list, but it looks like Pitsch cracked the list of top 25 Aussies. We're hoping to see his name in the top 10. How neat is that? … said the girl with the dog who won't get up off the ground.
So, it only makes me feel like crying a little over my failure. Maybe a lot, but I'm still SO happy for them. They work very hard, and it's fantastic to see them hitting their stride. He'll turn four later this summer, so they have several years to do some serious running (and winning).
Last Saturday, we worked on both dogs reorienting (Lilly while hopping out of her car crate) and Pitsch on the ground outside his car. Pitsch did great, even when he could see Lilly. Lilly did it twice, then refused to come out of her crate. It's sad to see her shutdown at home.
We worked on relaxation and passive attention. Both dogs did great. Lilly was quite relaxed. She just didn't seem to want to do any actual "work."
Next, we did some basic box work, where they had to work inside the box, while the other dog & handler were outside. Pitsch did great. Lilly shut down. It's quite possible that the use of weave poles as part of our junkyard box fence caused that.
I went ahead and crated Lilly so that she wouldn't feel pressure, then Betsy and I tried the 2 handler heeling exercise from page 78 in Leslie McDevitt's book, "Control Unleashed." I was clicking. Betsy was giving Pitsch treats. We went in a straight line rather than a square, but it was still hard. I'm pretty sure my timing was throwing him off.
Then, since Pitsch had earned it by working hard, we let him play with Lilly. She didn't want to work anyway. So, as usual, she chased him and growled for about 30 seconds. She really does like him, so I'm not sure why she insists on the initial display time after time. She is leaning away from him a bit, but otherwise, her body seems pretty relaxed.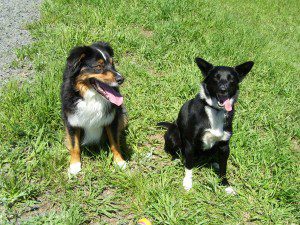 After the early display, she slipped into the mode where she pretty much treats him like she treats Ginko.
See how similar the video below is to the one I shot of Ginko.
Lilly Playing With Pitsch (video link, if the embed below doesn't show up).