The blog will go silent for a while as we cope with the loss of my mother-in-law Virginia Moore Hawn. She died early Sunday morning (May 6, 2012), after a week in acute hospice care. Here is my tribute:
Lessons I Learned from Virginia M. Hawn
 ~ By Roxanne M. Hawn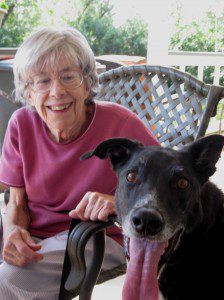 Nurture friendships with people of all ages.
**
Read … a lot, and share your books.
**
Be loyal, compassionate, and faithful to those you love most.
**
Don't watch daytime TV.
**
Find and stick with one good recipe for things like sweet potatoes, rhubarb,
and hamburger dishes for camping trips.
**
Volunteer.
**
Do something creative throughout your life.
**
Splurge once in a while.
**
Words matter, but actions reveal your true nature.
**
It's perfectly acceptable to laugh so hard you snort.
**
An upbeat spirit improves any situation.
**
Nap.
**
Know when enough is enough.
**
At least once in your life, share your home with a big, black dog.
~~~~~~
Virginia Moore Hawn
March 3, 1924 – May 6, 2012
Born at Homewood Hospital in Baltimore Maryland, March 3, 1924, Virginia Hawn enjoyed a busy childhood – filled with lessons in dance, piano, art, and elocution. Several times at the age of 8, Virginia performed an elocution recital on a local, afternoon radio show.
In her teens, Virginia rode bikes, kayaked, and ice-skated with friends. A cheerleader, she graduated from Forrest Park High School in the top 10 of her class of 400. She chose Duke University in part because of its football team. In 1941, she began earning her degree in education. She vividly remembered riding the train home for the holidays right after the attacks on Pearl Harbor. She graduated from Duke in 1945 and went on to teach kindergarten.
Virginia met her future husband Ivan Hawn, a fellow Duke student, at a cabin party on a lake. He came with friends of hers and immediately asked her out for a meal. Virginia often joked that she "never turned down a meal."
Ivan proposed to Virginia on D-Day – June 6, 1944. They corresponded via letters throughout the war, as Ivan flew with the 8th Army Air Force both in the United States and overseas.
The military nixed their original wedding plans for Labor Day Weekend of 1945 by cancelling all leaves of absence. When Ivan could get home a couple weeks later, the couple married on September 20, 1945.
After the war ended, they moved to Kennewick, Washington, near Ivan's parents. Virginia often hitchhiked to reach her in-laws' home on the other side of the bridge. The couple returned to Duke so that Ivan could complete his degree, then they spent two years in Golden, Colorado, while Ivan attended the Colorado School of Mines. Their first home was in the White's Apartment Building right on Washington Avenue, overlooking the Howdy, Folks! sign.
Virginia and Ivan moved back to Kennewick, Washington, where their daughter Terry, was born. They then moved to Richland, Washington, where their eldest son Bill was born. Ivan's engineering job brought them back to the Denver area, where both Scott and Tom were born.
The whole family lived on Teller Street in Arvada for many years. The couple bought an old farmhouse in Wheat Ridge in 1968. Both lived in that house for the remainder of their lives.
Virginia preferred reading to watching television and was an active member in a close-knit book club. She enjoyed both fiction and nonfiction, particularly anything with historical or British ties. Virginia played golf in a local league for many years as well. Throughout her life, Virginia shared her home with many pet dogs.
A past president of the Wheat Ridge Art League and an accomplished oil and pastel artist, Virginia produced numerous paintings in her adulthood – many of which now hang in the homes of friends and family. She volunteered for years as a literacy tutor at a local elementary school. She made deliveries for Meals on Wheels. And as an avid student with an amazing memory for details, Virginia also volunteered at the Denver History Museum.
Her final volunteer work centered around the Arvada Center for the Performing Arts, where she met friends with whom she shared a special bond. There, Virginia gave tours of historical artifacts in the collection. She loved to tell the story of one youngster, who upon learning about the wood stove asked, "Where did the microwave go?"
Virginia also volunteered as a docent at the Astor House Museum in Golden, where she donned historical garb and gave interpretive tours to school groups.
After Ivan's death in January 2000, Virginia caught an international travel bug and took three trips to England – two with family, one with friends. She also traveled throughout the United States with friends, usually visiting historical sites.
Family and friends will remember Virginia as one of the nicest people ever. Her positive outlook and compassion radiated from her heart. She got angry sometimes, but never over trivial things. The things that made Virginia "spitting mad" came from people being unkind or unfair to one another.
Virginia was quick to compliment others, to say thank you, and to help when need arose.
After falling on the ice outside her home in December 30, 2009, Virginia refused to surrender to the cold and fought to stay alive until help arrived. Virginia battled her way through several surgeries to repair broken bones and months of rehabilitation so that she could walk again.
She returned to her home in March 2010, where she resumed most of her activities. Even though she gave up driving, Virginia maintained her independence and shining spirit to the very end.
Despite catastrophic health concerns during her final week, Virginia basked in the love of her family and friends, who came to visit her at the Collier Hospice Center. When asked just days before her passing how she was feeling, Virginia replied, "Grateful and loved."
She is survived by four children and five grandchildren.
In lieu of flowers, donations can be made to the Astor House Museum, 303-278-3557.