Here is part five (of five) of frequently asked questions dog lovers have asked me since Lilly's ill-fated response to a vaccine earlier this year. This series of questions / answers covers the COSTS of diagnosing and treating Lilly's vaccine-induced meningoencephalomyelitis / meningoencephalitis (inflammation of the brain and lining of the brain and spinal cord), including how much the pet insurance company paid, how much Champion of My Heart fans donated, and whether or not the vaccine company responded to my request for financial help.
Please note: These questions and answers were posted when it still looked like Lilly might survive. That was not ultimately the case. Lilly died on December 17, 2013. We lost the fight, after spending 23 months and nearly $31,000 trying to save her. 

How much Lilly's adverse vaccine reaction diagnosis and treatment cost (so far)?
As of April 5, 2012, we've spent $8,122.04.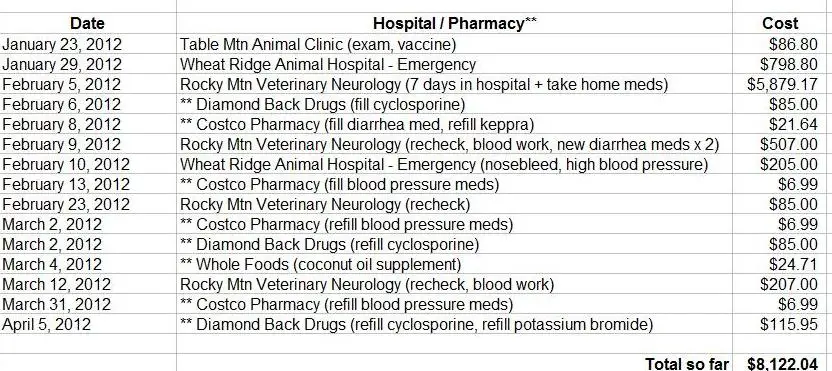 Lilly's ongoing care may cost from $106 per month for medication refills alone plus an additional $85-$500 for exams / tests with the board-certified neurologist / neurosurgeon (as needed). We hope to continue weaning her off some medications over time, but she may be on others for the rest of her life. Lilly will be 8 this month (May 2012).
How much did Lilly's pet insurance cover?
I had it in my head that our pet insurance policy had a maximum payout of $5,000 per incident / body system, but when I got brave enough to look at the fine print, I realized the maximum was only $3,000. So, that's what they paid … $3,000.
Lilly now has a lifelong exclusion for neurological issues on her policy.
Even though Lilly will end up with a pre-existing condition exclusion, I'm looking at changing to another pet insurance company with better overall coverage and no limits … just in case (with our luck) something else big happens in Lilly's lifetime. We're looking at Trupanion because that's what our veterinary neurologist recommended.
How much have you received from your Chip-In?
Thanks to many, many generous blog fans, friends, and family members (about 44 of you!), we received another $2,179.12 (after paypal fees) toward Lilly's veterinary bills.
When we have time, we plan to send personal thank you notes to everyone … so for now … THANK YOU!!
Did you contact the vaccine company for financial help?
Yes. Our family veterinarian filed an adverse event report with U.S. Department of Agriculture, which has jurisdiction over things like animal vaccines.
When I didn't hear anything from the vaccine company several weeks after that initial report, I sent my own letter via email directly to the vaccine company on March 12, 2012.
We did a dog blog poll on whether or not readers felt the vaccine company should / would pay.
Has the vaccine company responded to your request?
Yes. Stay tuned for details on that. We're planning a whole series of blog posts, telling that particular element of the story. It is VERY interesting.
Have you identified the specific vaccine and vaccine company on the blog?
No. And, I don't plan to do so.
Other than saying it was a 3-year rabies vaccine, I honestly don't think naming names will help anyone because I believe that every single vaccine company would have handled Lilly's case in the same way.
**
If you are new to our story, feel free to use the blog post category pull-down menu in the sidebar or this Adverse Vaccine Reaction category link to access all the posts we've published since Lilly got very, very sick with meningoencephalomyelitis (inflammation of the brain and lining of the brain and spinal cord) after an adverse reaction to a rabies vaccine given January 23, 2012. We're working VERY hard to help her fully recover from both her cognitive and neurological deficits.
***
If you want to access all 5 blog Adverse Vaccine Reaction FAQ blog posts, please use these links:
FAQ Part 1 – Lilly's health status and vaccine history.
FAQ Part 2 – The vaccine itself, factors that people think / assume may have led to the adverse vaccine reaction, and the incidence rate
FAQ Part 3 – Symptoms, diagnosis, and Lilly's prognosis