After a nervous morning, waiting for the phone to ring, I heard from the orthopedic surgeon around noon. Ginko did fine, with strong vitals throughout his 2 hours or so under anesthesia. The surgeon waited to call until Ginko was awake from the sedation, but he reported that Ginko was "drunk as a monkey" on pain meds and the like. So, I'm glad to hear he is resting comfortably. Woozy, maybe, but comfortably.
The Good News
First, the good news. They removed the plate and all but one of the screws from his TPLO surgery 7 years ago. One screw broke off, and they had to leave the part embedded in his bone behind.
They found no signs of cancer — of either the bone or soft-tissue variety.
The bone looked really good and clean and strong.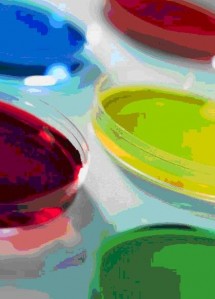 The Not-Great News
They found "fistulas" all over. I had to look this up, but basically, it means tracks or channels through the soft tissue. Inside the knee, they found LOTS of inflammation and a likely infection.
The surgeon cultured a couple spots. Those will be sent out to a lab and "grown" in a dish to see what  crops up. Depending on those results, we may switch the post-surgical antibiotics to better address what might be growing in there. Let's hope it's not some scary, resistant strain.
He reported they had to do a LOT of "reaming" the fistula areas out, which sounds awfully painful to me. Essentially, they dug out the bad tissue and then irrigated the heck out of these tracks.
If the cultures come back with nothing, then it's likely that (for some reason) Ginko's body just wasn't dealing well with the plate being in there long term.
Hope This Does It
So, we're really, really hoping that this has been the source of Ginko's continued pain and that this takes care of it.
I'd be really bummed if whatever is going wrong transfers to his left knee, upon which he also had TPLO surgery 7 years ago. So far, he has NOT had any trouble with the left over the years, and we hope it stays that way.
Recovery Timeline
More than likely because of Ginko's age (he is 10 now) and because of all the digging around they had to do, he WON'T be able to come home tonight.
We'll call around 5 pm to see what the verdict is, but we're assuming he has earned at least a one-night stay at the hospital.
Otherwise, assuming things go great, then he'll come home and be on restrictions for 2 weeks, until the staples come out. Then, we'll see.
The recovery time is NOTHING like the many-months-long rehab after the two separate TPLO surgeries. So, that's good.
Thanks!
Many, many thanks to those who sat (electronic) vigil with us today on the blog, on Twitter, and on Facebook. Your support means so much in our time of worry.