Ginko in Surgery Today
Today, Ginko goes under for his third knee surgery in his 10 years. Surgeons sawed apart and screwed each knee back together (a procedure called TPLO) at age 3. Due to increasing problems with his right knee, they'll take that hardware out in hopes of solving his pain issues. Last week, even with two different pain meds, he cried and cried and cried.
We had to postpone his surgery last month, after the medical scare with Tom, but we couldn't put it off any longer. His pain has been that bad.
Most dogs keep their screws and plates for life, but some families choose to have them removed once the bone has healed for several months. Despite various concerns, including infections racing to the plates and possible cancer implications, we assumed all along that Ginko would keep his bionic knees that took me a year to pay off.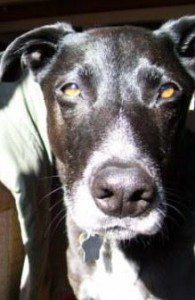 BUT, his pain continues to go up, and his functionality continues to go down. We had that one scare in early January, where his leg swelled up big, and he began carrying it, rather than using it. Pain meds, antibiotics, and anti-inflammatories turned that around, but something is still not quite right with that right knee.
Our best guess is that something is loose, even though x-rays done in January don't show it. We hope getting that hardware out will stop what's known around here as HOT FOOT, where he will suddenly startle while standing or laying down like someone just lit his toes on fire.
I've literally seen all four of his feet come off the ground from the jolt of pain.
If one outcome of all this is that I NEVER see that again, I'm a happy girl.
One Big Worry
But, I have a bigger worry. Back when I wrote "When Knees Go Bad" for The Bark magazine, about cranial cruciate ligament injuries in dogs, I learned that some thought there was an association between the plates used in TPLO and bone cancer (osteosarcoma). The problem, however, is that the plate location is also the spot where bone cancer often starts in dogs in general, so it's really hard to tell if any cause/effect or risk increases exist.
When I asked for an estimate on how much this removal surgery would cost, I heard a range that goes from X to 2X. In other words, if it goes well, it'll cost X. If they get in there and find a lot of scar tissue or something they need to biopsy, then we could be looking at twice the amount. Just his pre-anesthetic blood work  they did on Saturday came to $113.
During Ginko's wellness exam earlier this year, our regular veterinarian agreed with me that she felt something "squishy" on that right knee. My hope is that it's just a pocket of inflammatory fluid. My fear is that it's something else.
One More Hit?
And for those privy to the never-ending family medical realities around me since late last summer, you KNOW I'm bracing for the worst news because no matter how much I think positively (including wearing my "Optimism can take you anywhere" hat), the hits just keep coming.
I truly, truly hope this is not another one.
I'll report more when I know more. Until then, keep Mr. Ginko in your #PawCircle.