First Grant from Lilly's Fund to CHIP Fund
It's official. We made the first $500 grant from Lilly's Fund into the CHIP Fund at our primary veterinary hospital. We don't know yet which dogs and families will benefit, but here is how the deal went down.
I personally delivered a custom-made card (featuring my fav Lilly photo on the cover) with a $500 check. I typed up the note below to go inside the card.
Someone established The Chip Fund at the hospital years ago, in honor of a dog named Chip. It turns out that The Chip Fund is essentially a separate bank account the veterinary hospital keeps. As needed, the veterinarians dip into this account to help people pay their bills. It isn't an official charity. It's just a place to park money until it's needed.
(Interesting and SIMPLE idea … if you followed our frustrating saga of trying to set up Lilly's Fund.)
Let's all hope the families who benefit feel comfortable contacting me with photos and details on their dogs' cases so that I can share their stories here.
A few days later, I received this note from Susanne at Table Mountain Veterinary Clinic, our primary veterinary hospital.
Inside it read as follows …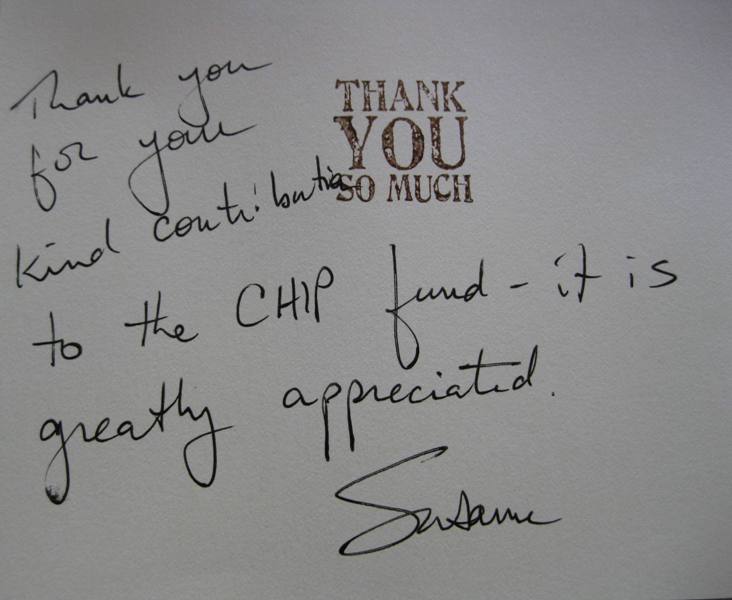 More Lilly's Fund Grants!
I haven't yet heard from our specialty hospital about a Lilly's Fund case (or cases) for the remaining $3,343. They may be waiting for our neurologist (really … our neurology resident) to return from his board-exam sabbatical in June.
Just like before last year's first exam, he took 8 weeks off to study all day, every day. He sits for this second exam, Sunday and Monday — June 1-2.
I sent him a GOOD Luck! note today, and he shared that only 23% of veterinarians who sit for this particular neurology board exam pass. So, I also sent him this photo, saying he could borrow Lilly's spirit and pretend she was watching over him just like this.
That ought to help. Don't you think?