Since we have no herding news of our own, after a long lapse in lessons due to non-stop work and family demands, today Champion of of My Heart looks at how someone else uses some clicker training in a herding context.
Herding is often taught using mostly pressure and "corrections." And, when you ask about how clicker training might fit into the process, you'll hear some grumbling about things like:
The livestock are their own "reward."
Clickers make dogs focus too much on you and not on the task at hand.
It's a natural, much more dynamic process than teaching another kind of trick or easily segmented task.
So, when our pal Anna from Happy Healthy Pup, who recently relocated from Salt Lake City, Utah, to Atlanta, Georgia, suggested I talk to Astrid Smith from A Dog's Journey … well, I sent and email and got on the phone.
Dog Behavior Problems and Herding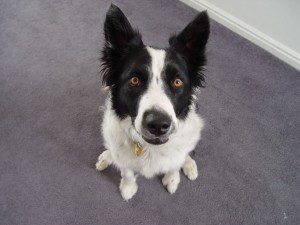 Astrid lives with several herding breed dogs, including both border collies and cattledogs. One of them — Ryddick — has some serious dog-dog issues rooted in all kinds of things that went sideways when he was a puppy.
Astrid used many of the same dog training strategies and methods we have with Lilly, including ideas from Click to Calm and Control Unleashed. For example, you can see Ryddick doing mat work in this video shot at an agility event.
Ryddick comes from working dog lines and should, as the theory goes, be a natural at herding. His generalized snappishness and reactivity, however, made for some interesting herding lessons.
You see, Ryddick … gets aggressive when pressured while working sheep. Most dogs back off from pressure. Ryddick doesn't.
And, even though Astrid (a dog trainer, herself) told her herding instructor from the get-go that herding should be fun for Ryddick and not to use a heavy hand, he gets over threshhold and has "outbursts" when pressured.
I cannot do justice to their story in a single blog post, but here are the big points:
Ryddick, like Lilly, tends to follow the livestock too close.
Ryddick typically works with fewer sheep at once (than we have with goats).
Ryddick tends to change direction now (rather than get aggressive or shutdown) when pressured.
Dog Training: Clicker Use In Herding —> LIE DOWN
Astrid used the clicker to solidify Ryddick's DOWN around the livestock. It was a challenge because as the sheep relaxed from the lack of pressure from him, they would move, and he would want to move again to control them. It's a common issue.
Astrid essentially clicked/treated each stage of the initial approach to ensure Ryddick stayed under threshold at the beginning of each lesson:
Click for heeling.
Click for LIE DOWN.
Click for when the leash comes off.
She also began to click him for LIE DOWN while working sheep. To ensure his related food reward, Astrid:
Calls for, then clicks for LIE DOWN.
Releases Ryddick to come get his food reward with the we're-done-for-now cue THAT'LL DO.
Dog Training: Clicker Use In Herding —> DRIVING, NOT FETCHING
Broadly speaking, border collies have a fetching style of herding … while other herding breeds tend to be more driving in their style. To get Ryddick to DRIVE the sheep better, Astrid and her trainer used another dog to get the sheep against the fence, then clicked/treated Ryddick when he got the sheep to move off the fence.
The fence and placement of dogs meant the sheep could ONLY move one direction, and this essentially set Ryddick up to SUCCEED by moving the livestock in a single direction.
To exercise better distance control between Ryddick and the sheep, Astrid uses a verbal marker "RIGHT THERE" when he is in a good spot.
That means, she ONLY uses the clicker when she wants Ryddick's attention to be off the sheep … like when she calls for LIE DOWN or THAT'LL DO.
We don't have the luxury of making a herding video of Ryddick that shows all these exact ideas in practice, but you can check out one of his herding videos, if you'd like to see him working.
Herding Advice for Us
Astrid and I chatted for a long time about our dog's shared behavior issues and herding lessons. Her best advice for me was to:
Keep herding FUN for Lilly
Figure out what her breaking point is and stay below that (so that she doesn't shutdown)
It's good, fundamental advice in any dog training scenario. Still, because I find herding SO MUCH harder than the other kind of training we done, I know that Lilly and I have a long way to go.
If you've come to our herding stories already in progress, you can catch up via these posts:
Lilly's Herding Instinct Test, Part 1
Lilly's Herding Instinct Test, Part 2
Lilly's Herding Instinct Test, Part 3
Lilly's Herding Instinct Test, Reflections
Lilly's Herding Lesson #1, Part 1
Lilly's Herding Lesson #1, Part 2
Lilly's Herding Lesson #1, Part 3
Lilly's Herding Lesson #1, Part 4
Lilly's Herding Lesson #1, Part 5
Lilly's Herding Lesson #1, Reflections
Lilly's Herding Lesson #2, What Went Well
Lilly's Herding Lesson #2, What Didn't Go Well
***
We have many more stories and adventures to share. If you'd like to support our efforts, please nominate Champion of My Heart as Best Dog Blog. (Nominations end June 29, and every single nomination matters.) Thanks!