Still neurologically compromised, Lilly stumbles, slides, and falls a fair bit on our tile floors. We don't really have rugs to put down all over, so we offer our humble thanks to RC Pet Products in Vancouver, British Columbia, for sending us PAWks (rubber-bottomed booty socks for dogs) for Lilly to use for improved footing in the house.
Since we weren't sure on sizes, they sent both medium (red) and small ones (pink). We've tried both, and the smaller ones fall off less as Lilly pokes around the house.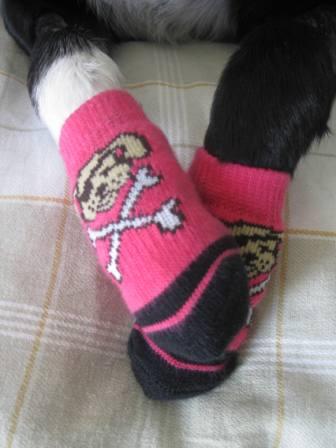 Check it out. More photos and video below.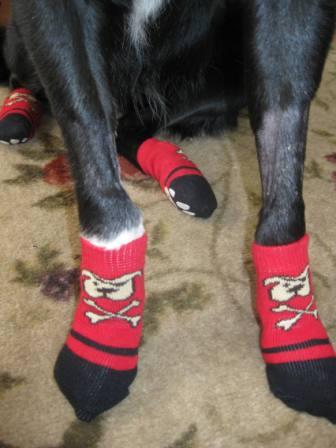 Dog Product Review: Rubber-Bottomed Booty Socks from RC Pet Products (PAWks)
I'm shocked to report that Lilly doesn't seem to mind wearing the PAWks at all.
Keep in mind that her feet still schlump and drag along, so maybe she cannot feel them entirely. In fact, when I rub Lilly's feet, it still does NOT feel like she is "inside" them. They feel uninhabited to me, with her full neurological recovery still pending.
So, Lilly will indeed wear her PAWKS (inside the house only) for better footing on the tile floors.
They do fall off, but it isn't because Lilly is pulling them off.
Longtime readers know that I'm not keen on dressing dogs up for "fun," but:
Lilly needs a little help getting around.
Lilly tolerates the PAWks well.
Lilly looks darn cute in them.
Here is our video dog product review of PAWks from RC Pet Products.
RC Pet Products also sent us a new collar and matching leash (poppies) that aren't even on the market yet. Right now, for blood pressure reasons, our neurologist doesn't want Lilly wearing a collar, but maybe later she can try it on for you.