Undercoat Rake from Enrych Pet Products: Dog Product Review
We've always had easy-to-groom dogs with short or smooth coats that don't shed at ridiculous levels. Technically, Clover and Tori both have rough coats. It wasn't until Tori joined us in September 2015, however, that I felt like the dog hair on our tile floors got out of control because in many ways Clover boasts a light rough coat. My usual grooming / de-shedding routine didn't seem to be cutting it anymore. Even though I didn't think I really needed to go to a dog grooming tool called an undercoat rake (since the puppy-girls are fluffy but not insanely so), I took a chance on trying out a modern-day undercoat rake for dogs from Enrych Pet Products — a company that's based here in Colorado. Don't miss our results.
Yes, this is a sponsored post, but all decisions about what to say and how to say it are my own.
Undercoat (de-shedding) Rake: Where to Buy
Want one? This AFFORDABLE (around $12), easy-to-clean, well-made undercoat rake is sold online and in stores. It features stationary stainless steel rake pins and a comfortable handle (for less hand fatigue).
Also, you can look for this undercoat rake and other Enrych Pet Products in various pet supply stores, including places like Tractor Supply Co.
And, if you don't see Enrych Pet Products at your favorite store, ask the staff to consider adding them. The company works really hard to bring quality pet products at good prices to folks like us.
Dog Product Review: Undercoat Rake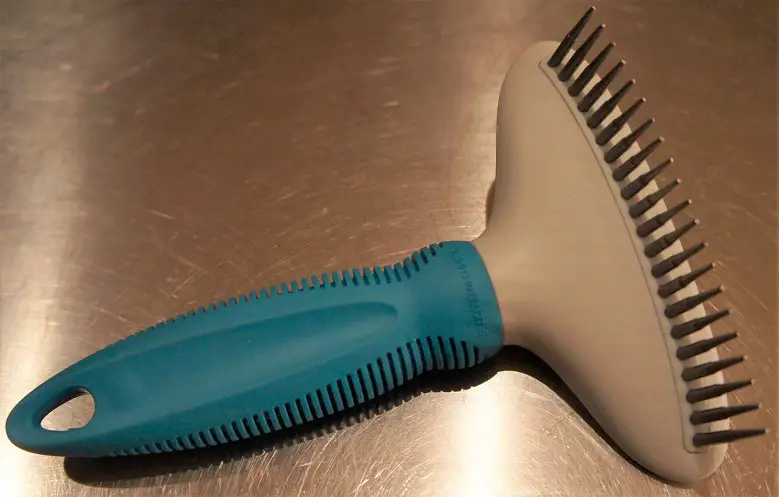 I'll be honest. I didn't think Clover's and Tori's coats required such formal tool because this …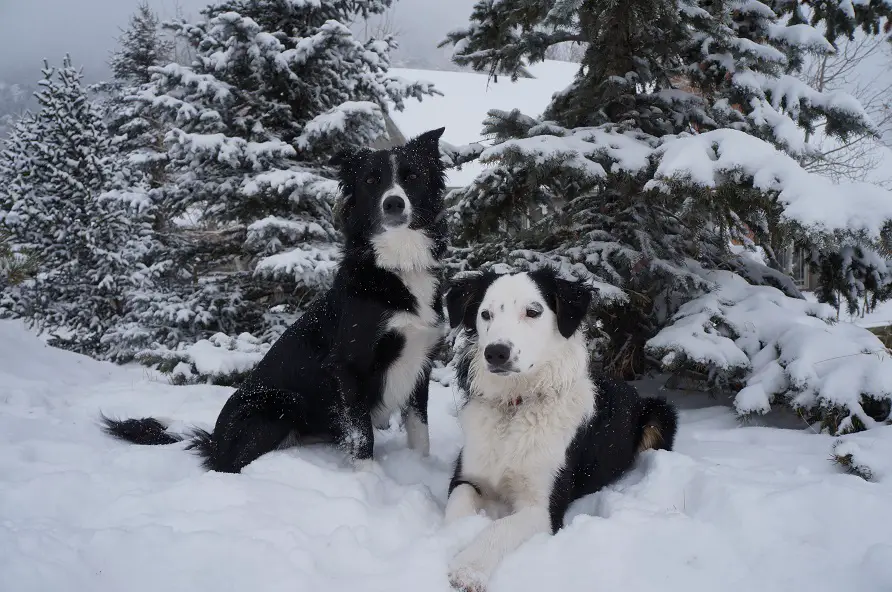 … is most definitely NOT this …
Why You Might Need an Undercoat Rake
Dogs with double coats (also called rough coats) grow two distinct coats. First, they feature a sturdier outer coat, or top coat. Second, they grow a softer, almost downy, undercoat. The undercoat is what insulates dogs — keeping them warm in the winter, cool in the summer. Most of what falls out and sheds is undercoat. These two coats not only look different but also grow at different rates.
On top of that, each undercoat follicle can have as many as 25 individual strands, and different strands are at different stages. How much year-round shedding you see and whether or not your dog "blows coat" a couple times of year, really depends on the climate where you live.
Basically undercoat rakes remove any loose undercoat before it ends up on your floors, furniture, and clothes.
Dog Product Review: Undercoat Rake Results
For several weeks now, I've been using the undercoat rake on both Clover and Tori several times a week. To be clear, this is the same grooming / brushing schedule that I've always used with other kinds of dog grooming tools.
Here's where I apologize for blaming Tori
for having a fluffier coat and shedding 10 times more
that any dog we've had.
It turns out that with this undercoat rake
I get as much off of Clover as I do Tori.
Other grooming tools I've used in the past seemed to indicate that Tori did shed more than Clover, but the undercoat rake experiment blows up that theory.
This is Clover (after a normal / routine brushing).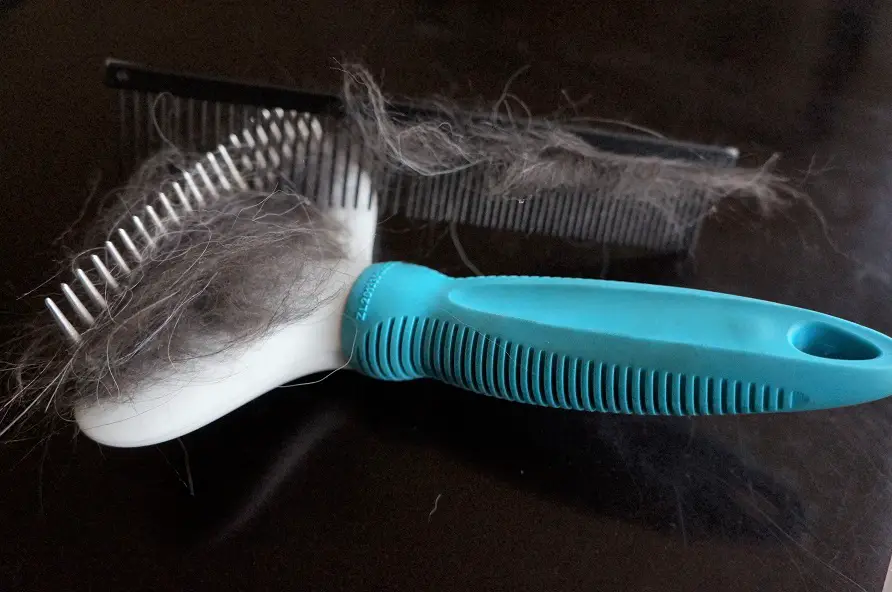 This is Tori.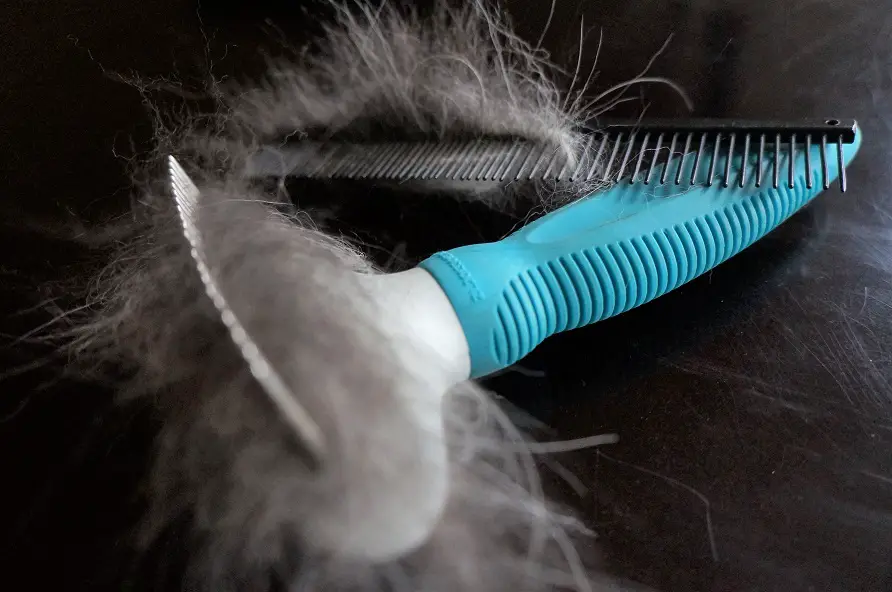 Our tile floors look a lot better. Not nearly as gross nearly as often.
The puppy-girls like how the undercoat rake feels in use versus other de-shedding tools we've tried (and stopped using because the girls hated it) in the past.
So, my plan is to continue using the undercoat rake first, then the comb (which I already had) second. The comb is good for around the ears, elbows, and for finishing the puppies' tails.
Learn More About Enrych Pet Products
Check out the whole line of Enrych Pet Products. They are kind of famous for something called a "prison bed," which (no kidding) is just like mattresses made for prison cells. Durable. Easy to clean.