Dog Product Review: Angry Birds Dog Toys from Hartz
The Angry Birds craze reached our rural, smart-phone-lacking abode. Dog toys. We're talking Angry Birds dog toys today. And, thanks to Hartz … we have 6 dog toys to give away for the holidays.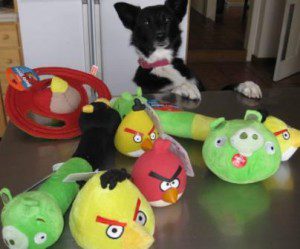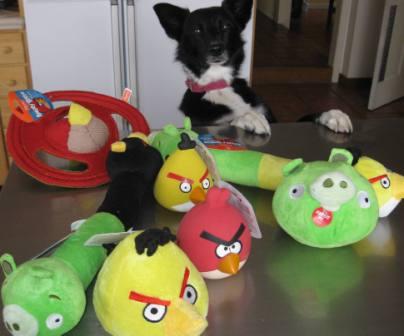 Hartz sent us 8 Angry Birds dog toys. I'm keeping one, and I've promised the Red Bird squeaky toy to a client's dog (a rescued Kelpie mix named Lucy). The rest, however, are up for grabs.
But first, here is our dog product review video and thoughts.
Dog Product Review: Angry Birds Dog Toys from Hartz
Technically we only tried out the Frisbee that features a Red Bird on one side and the Green Pig on the other because we didn't want Lilly and Ginko to slobber on or potentially ruin the other toys Hartz sent, so any other comments are based on past dog toy experience and hands-on inspection (not actual play):
The bird/pig Frisbee flies pretty well and stands up to Lilly's style of moderate tugging.
The plush toys, which apparently make game-like noises (I don't know since I've only played the game once on a plane, using a client's iPhone.), seem to be made pretty well. So, unless your dog eviscerates toys, you should be OK.
The rubber-like squeaky birds, I fear, might not last long unless your dog is extremely delicate with toys. The outer shell feels much like those red balls we played with in elementary school for 4-square and kickball.
We made a little dog toy review video for your viewing pleasure. Watch, if for no other reason than to marvel at Lilly's athleticism.
Angry Birds Dog Toy Giveaway
We're very excited to have 6 Angry Birds Dog Toys to give away for the holidays. So, the rules this time include:
You must post a comment below, telling us which Angry Birds character is most like your dog.
To avoid postal drama and crazy costs, we'll have to limit this giveaway to North America. Sorry, fans abroad.
Deadline to enter is Midnight (mountain time) Sunday, December 11, 2011.
Each person can only have one entry, so each winner can only win once. We'll number all the entries and use Random.org to pick 6 winners.
If for some reason we don't get enough entries, I'll donate any remaining toys.
FTC Disclosure: Hartz did give me this big box of toys for free. I will keep one for Lilly, but otherwise I was NOT compensated in any way for this dog toy review.  Please note that this post in no way means I support other kinds of products made and sold by Hartz.
In addition, the royalty-free music in the video comes from this site: Free Royalty Free Music by DanoSongs.com