Dewclaw Mishap – Dog Grooming Gone Wrong
The fact that Lilly lets me trim all of her toenails in a single sitting each week remains one of my greatest dog training victories. We call it Turkey for Toenails, but these days we typically use cheese. Alas, once in a while, I botch things and cause Lilly to bleed. It turns out dewclaws really gush in this adventure with dog grooming gone wrong.
Dog Toenail Trimming Strategy
Our process includes me sitting on the ground with Lilly, and trading her 3 small pieces of cheese for each front toenail trimmed. Often I say, "I … love … you," as I hand her each piece of cheese, then kiss her before trimming another toenail.
Lilly stands or sits as I trim her front toenails, but she is happier in a DOWN as I trim the rear ones. For some reason, doing the rear toenails is much less stressful for her, so they require a 1-to-1 cheese ratio, rather than a 3-to-1 .
Once in a while, I do cut one too short, causing her to cry and for the toenail to bleed a little. Usually, however, the bleeding stops pretty fast, and Lilly forgives me the error.
Dog Grooming Gone Wrong – Dewclaws
A couple weeks ago, alas, I trimmed one of her dewclaws too short, and that doggone thing bled like crazy in a rotten incident of dog grooming gone wrong. It didn't help that Lilly kept playing fetch and breaking it open again (for 2 days).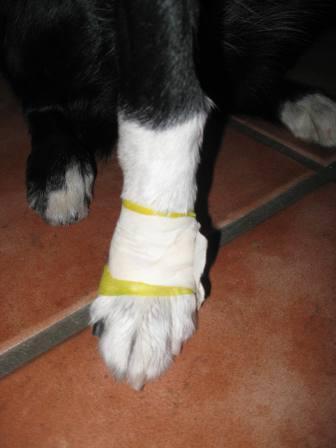 So, I rigged up a bandage from:
Part of a cotton ball
A length of bandaging foam
Adhesive tape
Lilly played all afternoon the first day without bothering it, but we took it off before bedtime in fear she would pull it off and maybe eat it.
The next day, though, it bled again as we played fetch, so I had to wrap it up for a while to keep her from bleeding all over the house.
Why No Dremel?
I know that most really good dog moms use a dremel to grind their dog's toenails back without it looking like a scene from a horror movie.
I really did try to counter-condition my sound-sensitive girl to the noise and vibration, but I got nowhere.  And, honestly, I'm more comfortable with the scissor-like slippers. I find the dremel kind of scary and worry about getting hair tangled or something.
I'm told you just tap-tap-tap at each nail until you can see a dot (which means you're close to the quick).
I might try the dremel again with future dogs, but I'd need someone to show me how to do it. Our dog trainer Gigi Moss once recommended practicing on a piece of plastic.
UPDATE — With our current generation of dogs, I have successfully moved to using *only a dog nail grinder. I'll probably never go back to dog nail clippers again … except maybe with foster puppies because they are pretty easy to fool and do quick clips of their tiny, baby talons.