Start of Clover's Dog Agility Career (maybe)
When Clover was around 7 months old, I put her on a waiting list to get into a dog agility foundations class with a trainer my experienced agility friends recommended. A full SEVEN MONTHS LATER we started taking agility classes (in mid-July 2015). That's how hard it is to get into a good agility class anywhere close to where we live.  As we approach our second anniversary of agility training and look at taking the next steps (perhaps the start of Clover's dog agility career), I figured it was time — finally! — to write something about it. (P.S. I'm also looking for some advice on a few things, if you're so inclined.)
I probably should have been writing about all this from the get-go, but we adopted Tori just a few months after Clover and I started taking agility classes. Things have really been a blur — raising 2 puppies who are only 13 months apart. SO MUCH TO TEACH THEM … on top of taking care of Ginko in his final months.
Clover's Dog Agility Training – What Stands Out
Thankfully, I kept a little notebook, and I've shot quite a bit of video to track our progress. Looking back at our earliest videos of us running short dog agility sequences, three things stand out:
I tend to think that Clover has looked THIS mature for a long time, but looking back at early videos she seems like such a PUPPY (lankier, with her full coat not grown in yet). Ha!
Clover ran SO well in the very early days.
She still runs quite well, but I do wonder (without watching every video from nearly the last 2 years) where our current training struggles took root.
In other words, taking this retrospective approach could be a recipe for beating myself up for MY mistakes that led to where we are now:
Lack of interest in tugging

as a reward (I know how this happened. Gah!)

Eroded start-line stay,

including running off to visit classmates and sniff around (though to her credit I'm losing her a lot LESS lately to sniffing / wandering once we start running the course)

Eroded speed

sometimes on course

Dog walk and teeter lack of confidence,

after having ZERO troubles at all in the beginning
Sometimes

popping out of weave poles

(which is strange because weaves have been Clover's top dog agility skill since she first learned them … using the 2 x 2 method)
I'm going to try NOT to go there, for now. Simply know this … it's my fervent goal to approach dog agility as teammates who love (and respect) teach other a ton.
Clover's Dog Agility Training — A Couple of Notes on Methods
Clover learned to weave using the 2 x 2 method. It works brilliantly. As you'll see, Clover can hit the weave entrance independently and from a good distance.
Lately, however, when the course requires me to be "too close" to her as she weaves, I've been causing her to pop out. You see, I taught her to do them at a distance, so when I have to be close to her, it's throwing her off. So, we're practicing doing weaves at home with me staying closer to her.
Clover learned running contacts for the A-frame and dog walk. We made this specific choice because:
It's easier on the dog's body vs coming to a dead stop with 2 feet on and 2 feet off.
It can be more motivating to be able to run (especially for dogs like Clover who may perceive being asked to stop as a "correction").
I'm not particularly worried about Clover being blistering fast to the point that I would not be able to keep up. And, if so, then that's the way it goes. I'd rather blow it sometimes and have her run happily.
Basically, you teach the dog to run through the contact zones with a rotary stride with the rear legs (NOT a bunny run with back legs together). It's MUCH easier for agility judges to see that at least one rear foot hit the contact zone this way.
First you teach the dog to run this way through just the PVC pipe box. There's one that's the shape of the A-frame contact zone and a smaller one that's the size of the dog walk contact zone.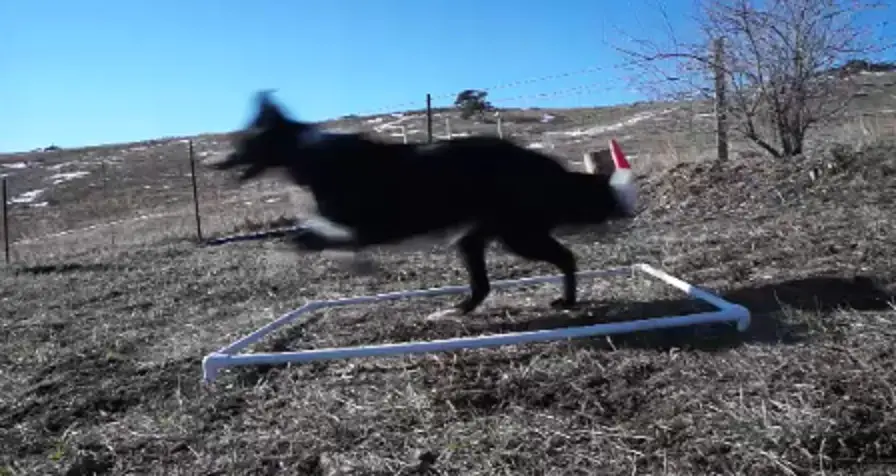 Eventually, you fade the box from the running board and hope to keep that same stride on the equipment itself. It's a LOT HARDER to teach this than to teach a dog to stop with 2 on / 2 off. We worked on this every day for MONTHS.
Clover's Dog Agility Highlights – A Retrospective Video
This 4-minute video shows our progress from October 2015, when we first started running sequences to April 2017 (now that the weather is warming up and we can run full sequences outside, including the contact obstacles).
To prevent me from obsessing over what's not 100% great yet, I watch our videos (mistakes and all) when we get home from class, but I edit down videos that show mostly our successes.
Clover's Dog Agility Career?
I decided it was time to tell this part of The Story of Clover for several reasons:
We're taking a One Mind Dog seminar scheduled for early May.
We mailed off our first-ever American Kennel Club agility trial entry form for a pre-novice agility trial scheduled for early June.
I'm taking an online course from a professional coach who also happens to be an agility competitor in the United Kingdom (hoping to gain insights into my own "mental game" both in my professional life and in my participation in the sport of dog agility … since I did NOT play sports as a kid, I don't have any background in these things).
It's NOT a given that Clover will have a competitive agility career. It's really up to her. If she likes it, then we will. If not, then we won't compete. We'll simply continue to train and play.
Advice Needed!
So, I need your ideas on things like …
What kind of collar (if any) Clover might wear in the ring?
What kind of harness and leash or maybe integrated collar and leash I might use in the ring? (However, I almost never connect to Clover's neck, so she does not like it much.)
Any tips you have for attending agility seminars or trials (since I've never done either)?
Tips on solving start-line stress or creating effective start-line routines?
Tips on teaching a dog that the dog walk is NOT the teeter and won't tip?