Clover's Story – Puppy Goes WEST!
Puppy COMES HOME! This is post #5 of 5 in the story of adopting a border collie puppy from 1,600 miles away >>>> The puppy's journey home began Friday, September 12, when Dr. Beth and Beth met halfway between Beth's dairy farm in Virginia and Dr. Beth's home near Washington, DC. They sent me photos so that I knew the handoff was complete.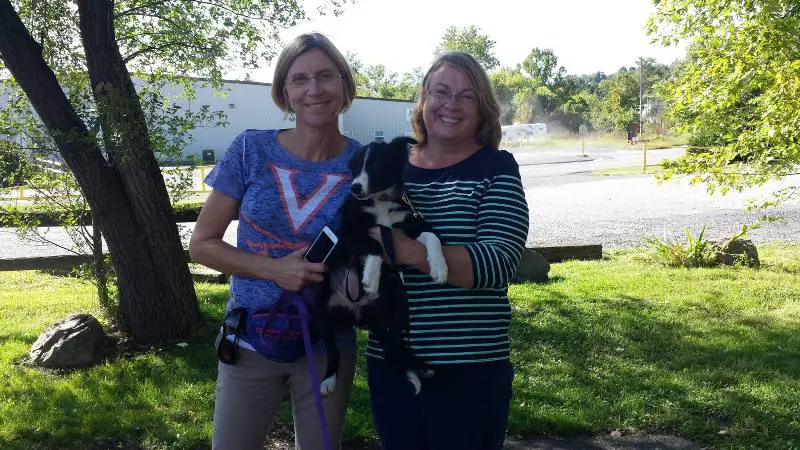 Our little sweetheart spent Friday night with Dr. Beth and her puppies.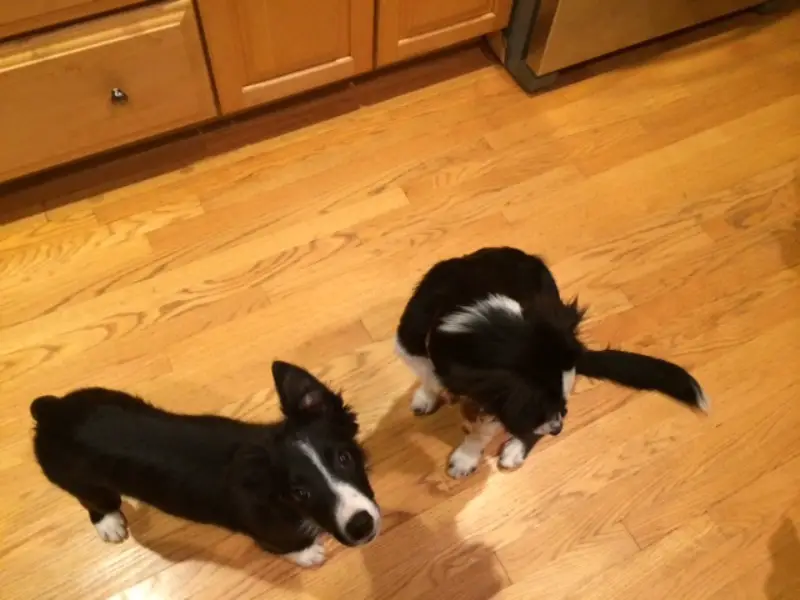 Then she had an early adventure Saturday morning with Dr. Beth, Teresa and Mark who brought her to the cargo facility two hours before the flight. They called me at about 5:30 am my time to let me know she was now in the airline's possession. As I told them, "I won't be sleeping anyway, so please call."
I was a nervous wreck, but I tried to be brave. Everything else had worked out. It had all fallen into place. Surely, the flight would be uneventful. Surely, I told myself.
We watched the flight's status and progress online and left our house about an hour before it landed. We parked in the "cell phone lot" at Denver International Airport and waited for news from Teresa and Mark.
They texted us when they landed, and they texted us when they were on the curb. We drove through the passenger pick-up area to get them, then all four of us drove to the nearby cargo facility to get our puppy.
As we signed the final paperwork, Tom and Mark could see her through the window in the door. She was hollering. Barking, barking, barking.
We carefully cut the zip ties that held her special airline crate closed, and I quickly fitted her into a puppy harness and leash. After her long day and long journey, I was NOT going to be the girl on the news whose puppy got loose on airport property.
Having to be at the cargo facility two hours before her flight, plus a long direct flight, and another hour getting from the plane to the cargo facility, our little sweetie had been crated for like 6-7 hours. At just 15 weeks old and with a UTI, we were worried, but she was dry on arrival. No accidents at all. Good puppy!
While the others gathered her things, I picked her up,
held her cheek to my cheek, her body to my heart,
and whispered my thanks to her
over and over again
for being so brave.
She traveled all that way and seemed entirely unfazed. I carried her to a nearby patch of weeds and set her down. We walked around just a little bit, and she happily peed. It was such a relief, for both of us, I think.
We loaded her back into her crate in the back of the 4Runner with a frozen puppy Kong, on top of Teresa and Mark's luggage. Teresa took this photo in the car and immediately texted it to Dr. Beth and Beth, while I called them both to say she had ARRIVED SAFELY!!!!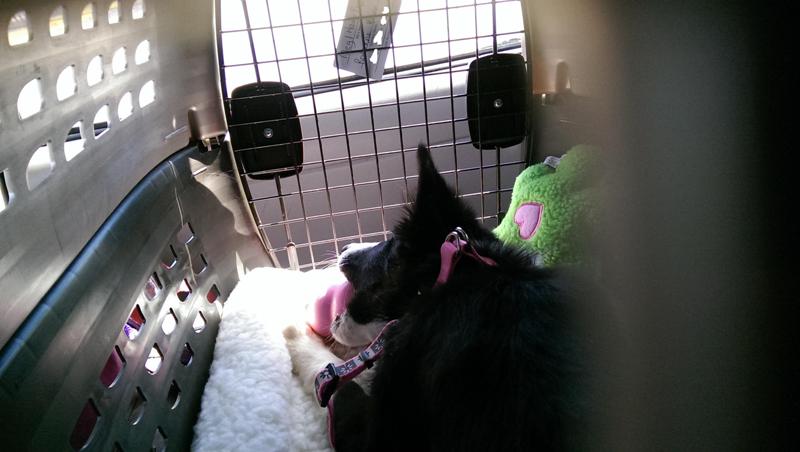 We then drove Teresa and Mark to pick up their rental car. That's where Tom took this first photo of me and Clover. (We could have had someone shoot video of our first moments together. We chose NOT to.)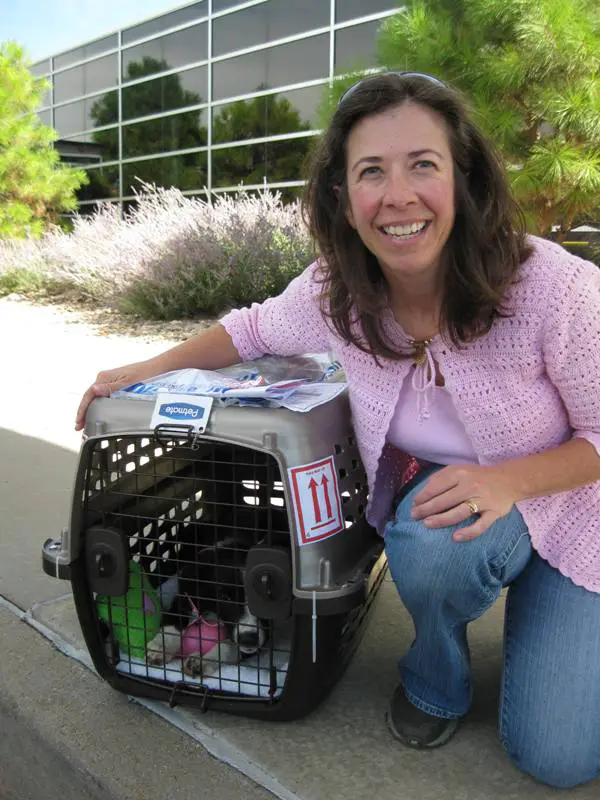 After expressing our thanks to Teresa and Mark that will never fully convey our gratitude for their help, we began the hour-long drive home from the airport.
That, friends, is the story of Clover's arrival. MUCH has happened since this happy, Happy, HAPPY day in September. I promise to answer all the BIG questions people often ask us soon!
By the way, Clover is 6 months old today!!!
Happy Thanksgiving. We're so grateful for your enthusiasm and interest in the new canine heroine of Champion of My Heart.
If you missed the earlier parts of the story, here are links:
Clover's Story – Told in 5 Parts
Clover's Story – Puppy Adoption Across 1,600 Miles
Clover's Story – Like Planning Military Black Ops