Saturday, Lilly and I hosted a special guest for a dog-friendly restaurant patio lunch and hike. This gave Lilly the chance to practice her many social graces. She did terrific in many "scary" situations, but Lilly did lollygag like you would not believe. It kind of freaked me out.
But here is the thing … we had a veterinarian along with us, so I figured we were safe even though Lilly hiked as if made from molasses.
Why a Veterinarian Along on Our Hike?
You see, last week, the esteemed American College of Veterinary Internal Medicine (aka veterinary specialists in many areas) came to Denver for its annual conference. I requested and received a Press Pass to attend. Sadly, I could only eke enough time out of the office to attend one day of the four-day event. (More on the sessions I attended next week.)
I did, however, get to spend part of the day with Hilary from Fang Shui Canines. Yay!
I also got to meet veterinary nutritionist Dr. Cailin Heinze from Tufts University. I recently interviewed her for this vegetarian and vegan pet food article, so it was fun to see her in person so soon.
We'd traded emails about other things after the formal interview, including my penchant for this tasty treat learned from My Kids Eat Squid known around the house as "cake in a cup."
Her advice?
Cut the sugar in half
Use plain yogurt instead of oil
Use 2 egg whites instead of one whole egg
Only make the cake (which only takes 3 minutes) when I really, really need it for stress relief … because it isn't doing a girl like me ANY favors
Perhaps you recall the Magic Chocolate Coping Pie (scroll down)?
Anyway, Dr. Heinz is a great interview, so when we realized we'd both be at the ACVIM event, we traded photos and found a way to meet up.
Then, being me, I said something about it being a shame she didn't have time for a hike while in town, and VOILA … it turned out that she did have time on Saturday.
So, Lilly and I loaded up, picked her up downtown, and brought her out to our location for lunch and a hike … after her last class of the day.
We had so much fun.
Fearful Dog on an Adventure
I've never taken Lilly into the heart of downtown Denver. A bevy of street closures complicated our journey, but we managed to get into and out of the city without too much honking (at us). It was a little dicey at one intersection, but we made it back out West unscathed.
Stranger in the Car. Lilly did woof a little bit when Cailin got in the car … because it's almost always just me and Lilly, but I used all her familiar words, including "friend." Then, we mostly ignored her and let her settle in while I navigated one-way streets and such.
Strange Dog Looking at Me. We grabbed lunch on the outdoor patio of Ali Baba Grill in Golden. Lilly and I often have lunch there, so she knows the location and settled in fine. Then, the family at the table next to us added their big yellow lab to their luncheon party, and Lilly got a little nervous.
So, I moved her closer to me and had her turn her back on the dog. I, then, moved our extra chairs to block the way a bit better.
Other than when she originally saw him and when he wanted to drink out of the water bowl our waiter had brought us, Lilly handled the other dog's presence just fine.
I fed Lilly some of her own food when a child nearby kept banging silverware on the metal patio table and when the Lab moved around, but otherwise, Lilly needed no other conditioning help to get through lunch.
Hot Girl Hiking. I'm guessing it was only about 85 degrees Saturday afternoon, but Lilly really dragged on our hike. We went to another hiker-only trail at the bottom of the canyon, rather than our favorite trail closer to home because it was a bike-only day there.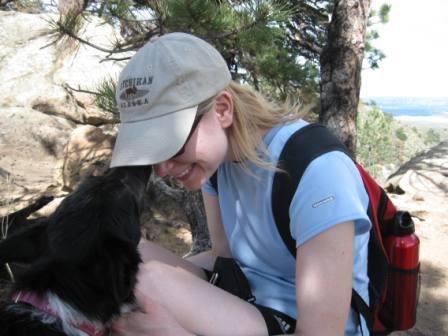 This trail is much steeper (at first) and relatively shade-free in the first half. So, I stopped often to give Lilly water via her collapsible bowl or straight down her gullet because I really wanted her to drink more.
We took a sit-down break in at the top of the mountain. We chose a shady spot, and I got Lilly to eat and drink and rest. She even:
Gave some kisses
Did a few tricks
Howled when asked
Cailin said, "Wow! That's the most energy we've seen from her."
Tom thinks Ginko could either hear or smell us (from about 7 miles away) because he said Ginko stood on our hill and looked down the valley intently for the longest time.
Maybe he knew Lilly was having THIS MUCH FUN. Look at this face! So, even though, I felt like she was a boat anchor at times hiking up the mountain BEHIND me … Lilly had a grand time.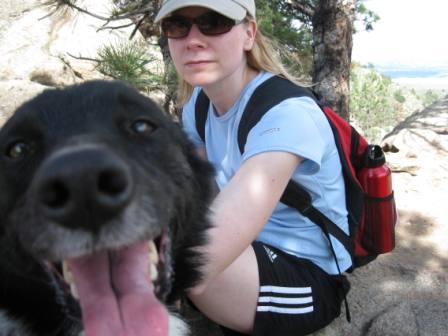 Strange Dogs in Close Proximity. Because this trail is much steeper over less terrain than our usual hikes, the single-track trail is pretty narrow in spots, and we had a hard time once in a while finding somewhere for Lilly to be OFF TRAIL (our trail differing cue). She did fine, with me blocking and feeding her as dogs passed.
In one case, though, where we did have the space to get up and off the trail, a youngish black Lab balked at moving on down the trail. For many reasons, we prefer that other dogs move on past us with all due haste, but this one put  on the brakes, and Lilly grumbled about it a bit.
Not terrible.
Once we even had a noisy, barking small dog of some sort squeeze past us, and Lilly did just fine with me shoveling food into her mouth.
One Bummer. The only bummer is that we fled our mountain top resting spot quickly when another family with a dog approached, and I must have left behind our collapsible water bowl (fabric one). I did not realize until I unpacked my day pack the next day.
[I bought a different kind on Sunday and will report back on how it works … if I can manage NOT to lose it.]
Lovely Last Trail. The backside of the trail loop we did in just under three hours was terrific. Shadier. Great views, etc. So, it was worth it.
And, when Lilly took a little tinkle break after we began making our way back down the mountain, I finally relaxed about her perhaps getting too hot and dehydrated.
So, all in all, a nice and much-needed outing …
Doing something a little different
Chatting and laughing with someone new
Being with my best, best puppy girl
***
Nominations for this year's pet blogger awards end June 29, so if you have time this weekend, please nominate Champion of My Heart as Best Dog Blog. The top four nomination-getters in each category become finalists for voting in July. Thanks!