Border Collie-Mix Puppy Needs Home
My friend and pro writing colleague Allie Johnson, who is a world-class dog foster mom and animal welfare advocate not to mention the author of the awesome Pet Tips and Tails blog, asked me to help find this dog-friendly, kid-friendly border collie mix puppy a home.
Help us won't you … by emailing your friends, using social media to spread the word?
Everything I know about her is below. Because Allie and her friend (whose granddad found the sweetie pup) are both resourceful dog rescuers … transportation to just about any U.S. location is probably possible, so don't let her current location deter you.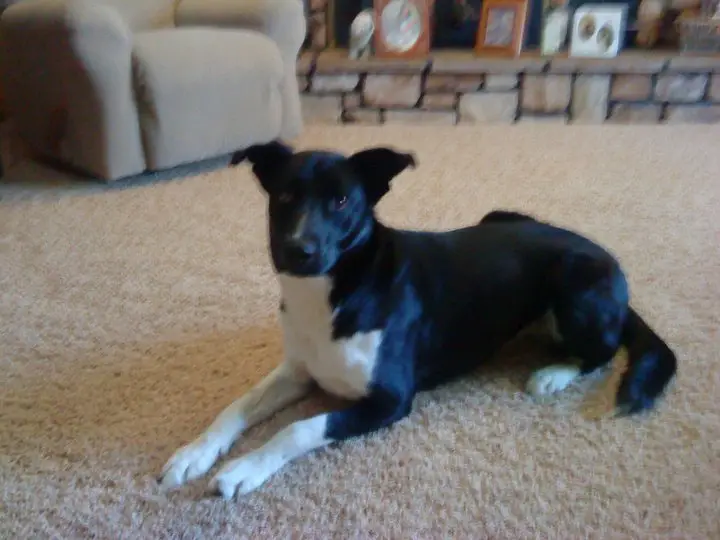 Breed: Probably border collie mix of some sort
Age: Estimated 7-9 months old
Found: On the side of a highway near Kansas City, Missouri, during a terrible winter storm
Location: St. Joseph, Missouri (although she is currently vacationing with the family that found her in Florida)
Temperament: Mellow when she needs to be, playful when invited
Training: 110% housetrained, capable of being home alone/loose without any chewing problems
Bonus! Both dog friendly (dogs of all sizes) and kid friendly
Latest News from Allie's friend (whose granddad found the pup):
"She is in St. Joe, about 5 minutes from my house. I can get any sort of transport I set my mind to:) As of right now, though, she went on vacation with my grandparents since they did not want to board her or leave her alone with someone they didn't trust. She is living it up in Florida as of yesterday for the next 2 weeks or so with all the other family poodles and Weimaraner. LOL! They have a second beach house in Florida that they go back and forth from, so she joined them on the trip this time for a couple weeks to get away from the winter weather for a bit:) But I have met her several times, and she an absolute sweetheart, totally obedient, completely housetrained 110% and free-roams the house every day while they are at work with not one single accident or problem of chewing or destruction at all…which is surprising since she is (from my examination) only about 7-9 months old. She doesn't seem to have ever been through a heat cycle yet and her back molars haven't even broke through yet! She is very calm and collected and is not hyper like a border collie but has the markings and build of one. So, she is definitely a BC mix of some sort for sure! She really just lays around and is quite docile and collected for the most part, but will definitely join in with you if you try to play with her…she is too funny!! And she just COMPLETELY lights up if she sees children!!"
If you are interested in this girl, email me Rachel @ …