Anxious Dog Update
I could use some help establishing expectations about Lilly's ongoing struggle with anxiety. Living with a fearful dog can be a day-to-day, minute-by-minute thing, and I'm used to that. However, I'm trying to get a grip on what I can and cannot expect going forward as well as what shifts in dog behavior matter at this point.
Come May, Lilly will be 8 years old. That means we're 7 1/2 years into her fearful dog reality as a member of our family and a good 5 years since we saw a major shift in her fearful behavior as she reached social maturity (around age 2 – 2 1/2).
In summer 2008, 8ur dog behavior modification work (combined with dog anxiety medications) got underway in earnest (after a couple of years of trying herbal and other scent-based remedies). This includes the Dog Relaxation Protocol MP3 files for which we are now famous for recording and providing FREE downloads.
In 2010, we successfully dropped the use of xanax (prescribed mostly for Lilly's extreme sound sensitivity) from twice daily to only as needed.
Regular readers also know that we recently experimented with giving Lilly chlomipramine (prescribed for her generalized anxiety) just once a day. After 6 weeks or so, we reversed that decision and returned to twice daily chlomipramine for Lilly's fears.
Over the holiday, I broke down and bought Lilly a ThunderShirt (~ $40 retail). While Lilly is indeed sound sensitive, I'm happy to say that she isn't overly conditioned to fear thunder or fireworks. She actually copes with storms pretty well, and we're lucky to live in a place with virtually no fireworks noises.
However, the pitch for ThunderShirt is that it works for all kinds of fears and dog behavior problems, so I figured … why not?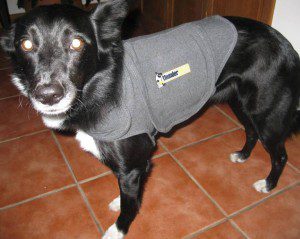 Eventually, I will write a true review of Lilly's new ThunderShirt, but in the meantime, I'd love to hear your insights into its best use and what kinds of dog behavior changes you saw in your dogs when you added ThunderShirt into the mix:
When does your dog wear the ThunderShirt?
How did you condition the ThunderShirt to mean good things?
How long is too long to wear it at once?
What tangible behavior changes have you seen when your dog is wearing the ThunderShirt vs. when he / she isn't wearing it?
Because, frankly, after a week of experimenting with it, I worry that I'm expecting too much.
Now, I should clarify that we tried other kinds of dog anxiety wraps years ago without success. In fact, they made Lilly's fearful behaviors worse. She would throw herself to the ground and refuse to move while firmly bound.
I'm going into this product trial with a heavy dose of anticipation and skepticism, so I'd really like to know what to expect. Do tell.