2012 – The Year the Month of May Went Missing
More than likely we won't remember much about May 2012 except for grief and heartache. The finer details? The day-to-day moments? Lost in an exhausted and emotional fog. Amid the ongoing mourning, I wanted to update you on our return to blogging and on a few lessons or ideas that might help you cope in such a situation.
Champion of My Heart Returns to Blogging
With just a few measly posts in May 2012, Lilly and I hope to return to real blogging — with our usual 5 posts per week. Those who've been patiently waiting for us to catch up on book reviews and product reviews have our apologies and thanks. We will do our very best to fulfill those promises pronto.
In addition, loyal readers and fans can count on the continuing tale of Lilly's recovery from a severe adverse vaccine reaction, including the full story of what happened when we asked the vaccine company for financial help.
I did have time to add links to all 5 Adverse Vaccine Reaction FAQ posts, but I'm having formatting trouble putting all the questions and answers into a static page. So, stay tuned on that.
Eldercare Lesson – Power of Attorney
I've since learned that several friends learned this particular lesson the hard way (as did we), but for future reference, financial Power of Attorney papers end when the elder in question dies. That means, if you have access to bank accounts when your elder is alive via a Power of Attorney, that does NOT mean you will continue to have access to those bank accounts after the person dies.
So, if you have an acute hospice period (like we did), I'd recommending moving money into accounts that you can still access after the person dies.
Coping With Burials
I've NEVER handled burials well. The idea — even as a child — of putting someone I love into the ground was hard.
I did everything I could muster to cope with that difficult day, which dawned cold, gray, and (even) snowing (flurries). Where others tossed a handful of dirt onto the casket, I had made a special run to a party supply store to get pink confetti. That's what I tossed instead.
When my friends ask for prayers or support, I often say, "Pink, sparkling mojo raining down upon you."
This is what that looks like forevermore.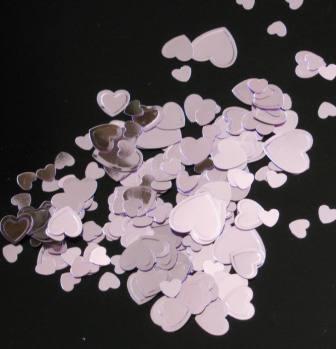 Perhaps we can start a trend.
Be warned, though, that it's surprisingly hard to find single-color confetti. I went to three stores before I found what I wanted, but even then, I had to walk all the rows because the confetti is displayed throughout the store, rather than all in one place.
Grave as Geographic Bookmark
Also, rather than think of the grave site as the place someone I love now lies, I've decided that it's essentially a Geographic Bookmark of someone's life.
It's a stretch, I know, but it helps me cope as we move forward with headstone designs and grave garden plans.
***
That said, please accept our apologies for the absence across all blogs and social media in the month of May. Our hearts — to put it mildly — just weren't in it. We may (or may not) fully catch up or get back in the swing in the coming weeks, but simply know we're giving it a good try.