The experience of winning the DogTime 2010 Best Dog Blog Award at BlogPaws West this weekend still astounds me. I may have managed NOT to cry on the podium, but I've been pretty weepy ever since.
I didn't want to get my hopes up, and I'd convinced myself another nominee was unbeatable. Many thanks to my dog food blog collaborator and friend Anthony Holloway, from K9Cuisine.com, who told me at dinner Friday night that if they knew the outcome, they wouldn't hold the contest. I guess that's something he has told the little league teams he coaches for years. You can read his version of this conversation on his CEO Blog today.
Still, I had sort of worked myself into believing that win or not, it was a "sign" that would set me on a certain path. I was NOT prepared for what winning would mean to me or how it would feel after the many rough times in the last year. (Longtime readers, I think, will understand that.)
No one needed this boost more than me.

Best Dog Blog Award Acceptance Speech
The video below shows the entire "Petties" award ceremony, which was held at lunch Saturday, Sept 11, 2010, during the final day of BlogPaws West. Leslie Smith, editor-in-chief for DogTime Media, which gave the awards, is a total crack up, so I encourage you to watch and enjoy it all. (If you're pressed for time, though, I accept my award about 7 minutes in.)
Seeing it on video, I realize two things I flubbed because I was nervous:
I meant to say that I thought Carol Bryant from Fido Friendly was unbeatable … not that I didn't think she was. D'oh!
I meant to thank those I consider the Royalty of BE THE CHANGE … not Champion of My Heart.
I very nearly cried at the beginning when I did my initial thanks, especially when I looked at my dear dog-training / dog-blogging friend and Never Shock a Puppy coalition member, Deborah Flick from Boulder Dog.
That panic of "OH, CRAP! I'm going to cry!" felt worse in person than it looks on camera. Somehow, I managed to keep it together and get through the rest.
Once the ceremony ended, I got crushed with hugs from so many dear blogging friends. (I wish there was video of that.) Many thanks to all of them for being there and for their enthusiasm, support, and encouragement not just this weekend, but always.
I got all misty again and kept saying, "I need to call Tom." Once the hugs waned, I did manage to sneak in a call.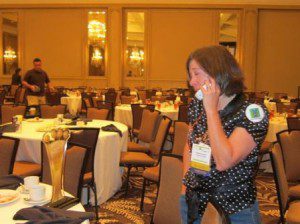 Thanks to Raising Ruby, for documenting my tearful call to Tom and Lilly. Yes … I asked him to put Lilly on the phone so that I could tell her the news and thank her. No writer could ask for a better canine heroine.
Best Dog Blog Award Post Win Interview
I also did a "Red Carpet" interview after the awards ceremony, and I had found a place online where you could watch that, but now I cannot find it again. If it turns up, I promise to post later. (I spent all day Monday suffering through horrible computer problems, so the fact that I can post at all is just about a miracle.)
Thanks to Nicole Platt from DogTime for this photo of that interview taking place.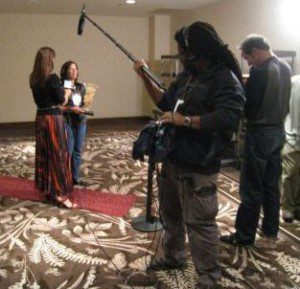 Celebrating With Lilly
I was so exhausted and overwrought with emotion that I came home Saturday night after the closing ceremony and dinner, and I pretty much crashed into bed. We let Lilly sleep with us as a sort of celebration, but the plan went south when she nearly barfed right on Tom's head about 6 am Sunday morning.
Yep. I live SUCH a glamorous life.
I'll come up with a REAL celebration at some point when I regain my sea legs, but for now, these photos will have to do.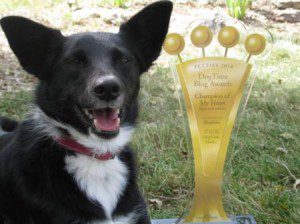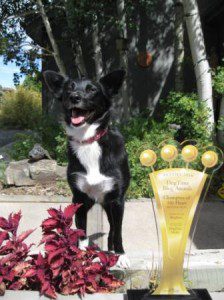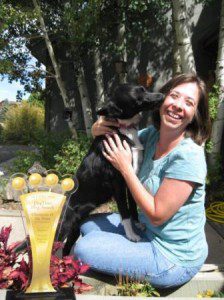 That's her nibbling on my face. She does that when she gets excited.
BlogPaws Update and News
I promise I will pull together my BlogPaws news in the coming days, including (I hope) some video product reviews of some freaking AWESOME toys we got in our schwag bag.