Blog the Change Day: Up for Pups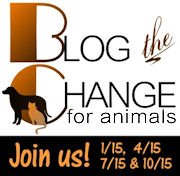 Today is one of four Blog the Change Days each year, meant to inspire pet bloggers to Be the Change for Animals. Regular readers already know about our current Be the Change effort, called Never Shock a Puppy, so I thought I'd share some info and links about another Colorado girl with BIG ideas about taking a new kind of consciousness raising on the road.
Please meet Kyla Duffy from  Up for Pups: Humane Education Like You've Never Seen Before.
In this aerial performance, Kyla uses tremendous strength and grace to teach people about the disgrace of puppy mills. The slide show that plays on screens behind her share messages about the reality of puppy mills and the many needs of shelter animals.
This video of "Rope Dancer" comes from the BlogPaws West opening night.
Kyla is looking for support in many forms, including sponsorships, bookings, and other artists/performers to join the community of creative people to take humane education to new heights.
Kyla is also co-editor/publisher of Happy Tails Books: Dog Adoption Stories. You can read all about Kyla's dog Bill.
Other than posting about Kyla here, I'm still trying to figure out how we might work together. I believe so very much in her cause, her methods, and in Kyla herself. She is really a terrific, terrific person.
Lilly and I wish her the very best. We went big with our first Be the Change effort, but Kyla has gone even bigger. Kudos to her on that.
If you are someone who can help her, or if you know someone who can, I hope you'll reach out to Kyla.
Check out other causes people blogged about today: