Dog Doorbell Virgins
Our doorbell never rings. Pretty much … never. That's the beauty of living on a fully fenced hunk o' land with a locking gate. Other than the few times it came up in the Relaxation Protocol (detailed, tedious dog behavior modification), Lilly and Ginko haven't heard our doorbell ring. So, imagine my adrenalin rush and their curiosity when it went off Friday in the middle of a quiet working morning.
Not so much a ding-dong as a ba-ling. The bell rung.
Because the bell has sounded just 3-5 times in the many, many years we've lived here, the dogs don't associate that noise with the front door … which played to my advantage.
They ran to the dining room windows to bark at the man outside. Stranger? They knew that. Ba-ling? Not so much.
And, since an L-shaped half-wall separates the dining room from the entry hall, I didn't have to wrestle my canine pals — who like me were a little freaked that someone got close to the house without permission.
Did I let them bark? You bet your butt I did … especially Ginko, who was using his Scary, Big Boy Voice.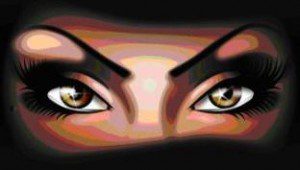 (Only my rural, remote pals will understand that unique brand of "Hark, who goes there?")
It turned out to be nothing dangerous. It was just a guy from our electrical co-op. He needed to fiddle with something in a box that's on our land. That meant turning off our power for a bit. He'd climbed the fence from the house next door because he warned them too of the brief, very local power outage he needed to create.
So all is well, as usual, around here.
But it did make me laugh to realize my two pups are essentially Dog Doorbell Virgins. I'd bet that's somewhat rare these days.