Pupppy-Girl Medical News
I didn't want to say anything until I knew what was what, but Clover had some tests done last week, and Tori is having surgery this Friday, May 13. Medical news just ahead.
Clover's Lump & Soreness – Medical News
In mid-April, Clover seemed sore after agility class, so I was massaging her back and found a small lump near her left hip / spine area.
Initially, I had 3 theories:
Her microchip had migrated.
It was some sort of scar tissue from Tori biting her when they play.
It was something else — maybe something scary.
We scanned her chip a week later, and it still scans like it's where it should be (between her shoulder blades). So, we made an appointment to get the lump and soreness checked out.
Our primary care veterinarian did NOT think the lump was painful, so in addition to shaving a spot and doing a needle aspirate of the small lump, she took hip x-rays.
The verdict?
Everything is fine!
The lump is just a little cyst that does NOT need to be removed unless it gets big or painful … or if we're putting her under anesthesia for something else, we might remove it then.
Both our veterinarian and the veterinary radiologist who also checked Clover's hip x-rays say they are fine. So, that's excellent news.
The Orthopedic Foundation for Animals has some good info on how dogs' hips are graded. Based in my remedial understanding of that, I think Clover's hips are "good," maybe leaning toward excellent.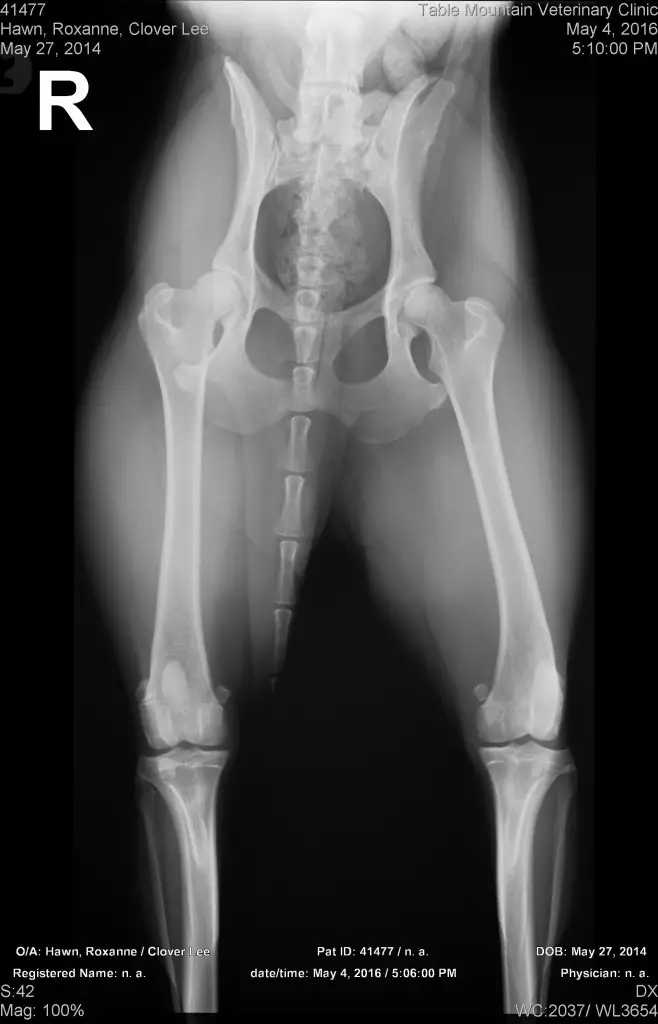 The next step is to take Clover (next week) to see a veterinary chiropractor for assessment and treatment of possible soreness from some another source.
I've submitted the pet insurance claim to Embrace Pet Insurance. Assuming this claim is deemed "covered," we're getting close to reaching our policy-year deductible on Clover — after some tummy troubles back in February and now this. That means if anything else comes up this year, we'll get some help paying Clover's veterinary bills thanks to her pet insurance coverage.
Medical News – Tori's Spay Surgery – Please keep her in your thoughts.
Tori will have her spay surgery, her rear dew claws removed, and her microchip implanted Friday, May 13.
Just like with Clover, Tori will have a traditional spay. Unlike Clover, however, Tori will be spayed BEFORE she has her first heat cycle. She is about 10 1/2 months old now, and she seems to be done growing.
Surgery day would have been Ginko's 16th birthday and Lilly's 12th birthday, so even though it's a Friday The 13th, we feel like it's a lucky day for us. Must say — it's hard to imagine a 12-year-old Lilly … since she died when she was 9.
With a 2-week recovery, that means Tori will get probably her stitches out on May 27, which is Clover's 2nd birthday (if you can believe it).
Best of all, Tori will be all healed up in time for our first summer together. 
According to our home scale, Tori is about 41 pounds (compared to Clover's nearly 35 pounds). She is also a couple inches taller now, at the shoulder. Tori is standing on a raised flower bed in the second photo below. She is NOT that much bigger than Clover.
They've already come a long way together. It's going to be a CRAZY summer!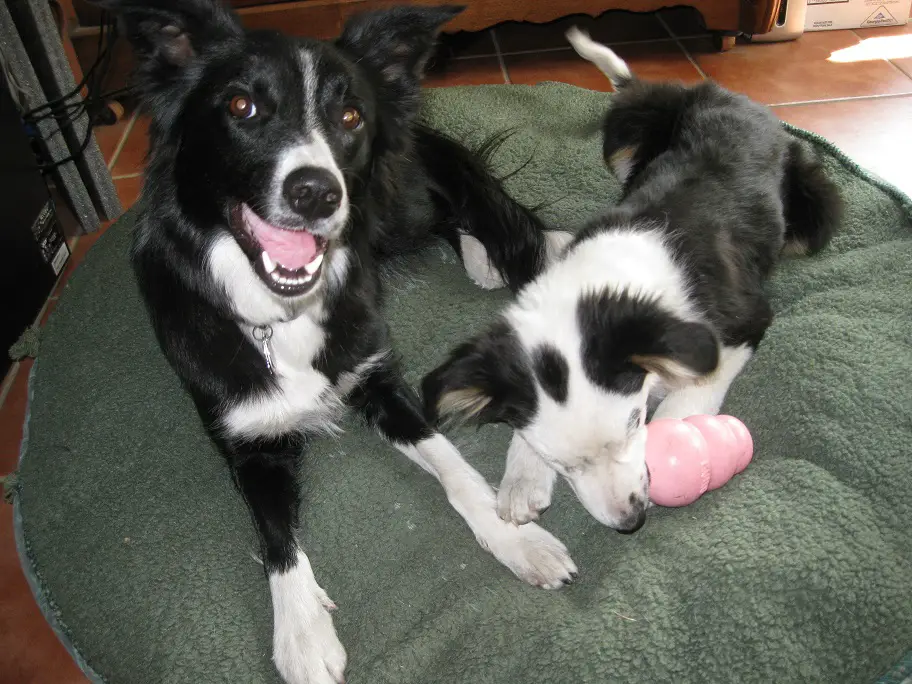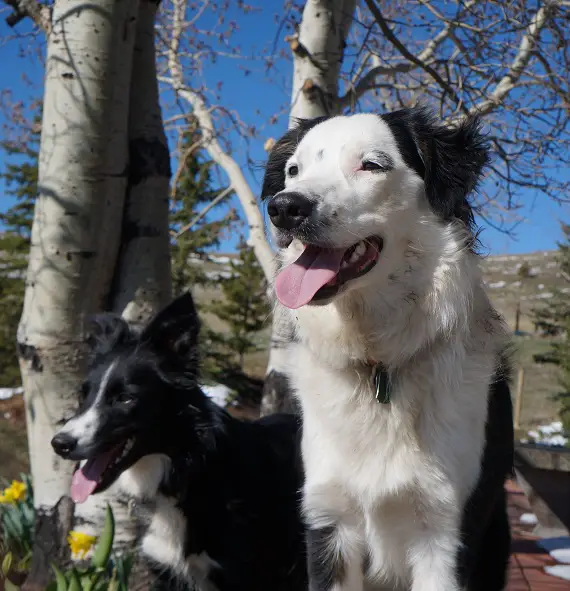 We only have accident / illness pet insurance for both of the puppy-girls (not wellness coverage), so the costs of Tori's spay surgery are NOT covered and do NOT count toward her policy-year deductible.