Protecting Dogs, Sticky Situations
Let me describe a few all-too-real situations where dogs needed protection, then I'm curious about your thoughts about how much you'd do, how much you'd risk (especially if it seemed like you were in danger).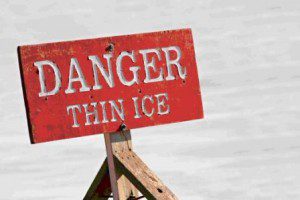 Situation #1 – Dog Left Alone in Hot Car
Imagine you're going about your work day on a HOT summer afternoon, and you realize there is a dog alone inside a black car. The windows are rolled up tight, with no owner anywhere in sight.
As you try to figure out your best course of action, the owners return to the car — screaming at you to get the @#$#@ away from the car/dog.
Situation #2 – Driver Swerves at Loose Dog on the Road
Imagine again, you're going to work one morning, and you see a neighbor's dog out loose on the road. As you prepare to pull over and round up the wayward pup (that you know), you realize the the car ahead of you (that just pulled out of a driveway in your neighborhood) deliberately swerves at the dog — not just once but several times.
You honk. You yell. You offer a few choice gestures.
Once the dog is safely back in her yard, you drive on … except the other driver pulls over to let you by then drives erratically in a road-rage kind of way for several miles.
So, you pull over somewhere safe to see if there is just generalized anger or real intent involved.
The other driver pulls over too.
Situation #3 – "Stray" Dogs
Imagine you live in a fairly rural community with numerous large predators. You notice over the course of not just one day, but several days, that there are 1-3 dogs just sort of hanging around. Would you:
A) Round them up and keep them warm/fed/safe until you can figure out where they belong.
B) Send out a neighborhood email, with few distinguishing characteristics listed, wondering if anyone knows where they live, but just let the dogs continue to run loose.
C) Catch them, if you can, and give them away without any attempt to locate their owners.
My Answers
I would do a LOT to protect dogs I thought were in danger. A LOT, but it seems like (lately) there is more human anger/aggression involved, if you try to protect dogs in the face of what I consider "bad" human behavior.
Tell me about the times you've stepped up to help/protect dogs. Did you ever feel like you were in danger yourself?