My Bloody Valentine – And Now Nosebleeds
Lilly had a rough, rough Friday in her recovery from meningoencephalo- myelitis (inflammation of the brain and lining of the brain and spinal cord) after having an adverse rabies vaccine reaction. The diarrhea continues, and her originally minor nosebleeds hit the big time. I spent hours and hours and hours trying to stem the tide each time her nose broke loose.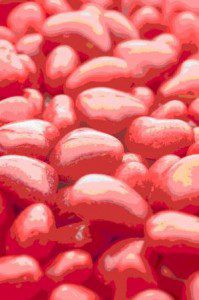 Our clothes, the dog beds, our floors, and (alas) part of the loveseat look like a crime scene.
Long story short … we ended up in the ER (again).
I'm too exhausted from another late night of veterinary worries to tell a proper story.
Suffice it to say that after talking to our family veterinarian, our favorite ER veterinarian, and our neurologist in the last 12 hours that we're making some changes in Lilly's meds and even adding a new one.
It seems in addition to neurological inflammation that Lilly also has blood vessel inflammation, and that's likely what's behind the increasingly bad nosebleeds. Last night, she had copious blood pouring out of both nostrils.
When we got to the ER, her blood pressure was sky high. I mean potentially cause-a-stroke high. We did our best to calm her down, and we got it down quite a bit, but it was still higher than it should be.
So, we're adding a blood pressure medicine too.
Seriously.
The good news, though, is that she only has to take her steroids every OTHER day now … because tests done Thursday show that her levels of cyclosporine (the drug often used to prevent rejection for people who've had organ transplants) are good. That means she needs less steroids now.
Eventually, we'll wean her completely off the steroids (we hope).
That change, along with the two new tummy medicines from Thursday, should also help the rampant diarrhea resolve. We haven't seen anything resembling a real turd since last Monday (2/6).
To help with the nosebleed situation, we're making some additional changes:
Keeping the house as calm and quiet as we can
No neck collar
Raised food and water bowls
Not messing with Lilly's nose AT ALL (no cleaning it, no trying to stop the bleeding when it happens)
Dropping the Vitamin E for now because it can thin the blood
New Plan: Hospitalized at Home
Our hospital discharge instructions essentially said to treat Lilly as normal, but we've decided that this week proved that's not such a great idea … since Lilly will try to do too much, if left to her own devices (even with close supervision).
So, Lilly will spend much of the coming days — until some of these symptoms improve — in her crate.
Until just a few minutes ago, Lilly didn't seem to mind being in her crate while I try (desperately) to catch up on work stuff. BUT, now she is being a total whiny pants.
So, I'd best wrap it up and let her have some "loose" time with me on the sofa. Maybe we can find a movie to watch.
Hope you are having a nice (and blood-free) weekend.
***
If you missed the earlier announcement, we've set up a chip-in for people who want to help defray Lilly's rampant veterinary bills. No pressure. People asked if they could help, so we created a way for those who want to. Many thanks!