Quick Note – Lilly Recheck Appointment News
Whew! Long day, so just a quick note about Lilly's recovery from meningoencephalomyelitis (inflammation of the brain and lining of the brain and spinal cord) after having an adverse rabies vaccine reaction. Today, Lilly had her first recheck appointment with the team at Rocky Mountain Veterinary Neurology (housed inside the Veterinary Referral Center of Colorado).
Lilly's appointment had a few objectives:
To draw a complete blood count to make sure the chemo drug she received over 36 hours last week hasn't affected her badly
To draw blood to check her levels of cyclosporine (the immune-mediator medicine)
To do another neurological exam to check her progress
To find a strategy for dealing with her extremely upset tummy
To figure out what's the deal with her ongoing nose bleeds
We won't have test results for a few days, but our neurology team posted this picture along with the following on their Facebook Page:
"Lilly continues to improve each day. Dr. Lane thinks she looks great!"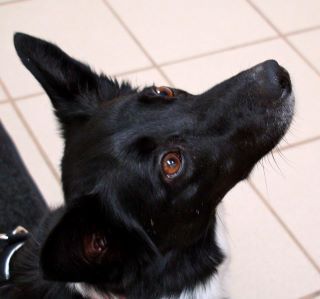 Meningoencephalomyelitis Treatment Plan – Ongoing
In addition to the many meds Lilly is now taking to continue her recovery from meningoencephalomyelitis, we have two new tummy medicines:
One for the next 5 days
One for after that
We also got the OK to give her probiotics to help her digestive system rebound after several days of extreme pooping.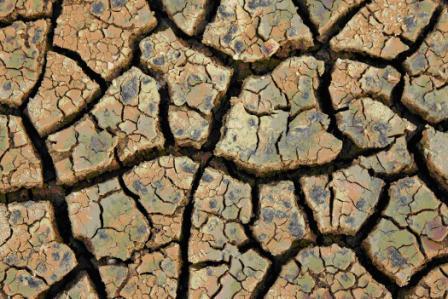 As for the nosebleeds … we have no reason to worry too much. Blood tests earlier this week to check her platelet counts and other clotting factors came back normal. So, while it's messy and no fun (I'm doing a big load of blood-stained laundry now), we don't think it's too dangerous. Just weird.
Our neurologist said, for now, we'll "let it ride."
I cannot tell you how dry, hot, cracked Lilly's nose is. So, I bought her some plain Chapstick, and we're putting that on her nose a few times a day to help it heal.
Our already lean canine heroine has dropped more weight — no wonder with all the diarrhea — so we'll be adding not only plain hamburger to her meals but also adding an extra meal into her days until she rebounds on the scale.
The day Lilly had her rabies vaccine (1/23/2012), she weighed 35 pounds even. Today, with her harness on, she weighed in at 32.4 pounds.
A Few Odds and Ends
I keep forgetting to mention that we learned a couple interesting things along the way about Lilly's vital signs. She seems to have low blood pressure.
Lilly also has a low heart rate (70-80 bpm). We might assume that it's because she was in such good physical shape before this happened, but when she was hospitalized … it got REALLY low … like 40-50.
Wednesday night into Thursday morning, Lilly only woke us up 3 times instead of 10-12 like the nights before, so things are improving on the sleeping front. It isn't perfect yet, but it's better. We look forward to her once again sleeping through the night.
***
We've promised a few other kinds of posts to friends for early next week, so you can always check our Champion of My Heart Facebook Fan Page for little Lilly updates.
But, you can count on us to continue reporting on Lilly's recovery in the days, weeks, and months to come.
Have a great weekend!