It's late, so this is just a quick note. Stay tuned this week for more info and even videos chronicling Lilly's first extended encounter with a very young puppy. Our agility friend Betsy recently welcomed home LuLu, a performance-bred Australian Shepherd (aka agility dog). She is a total doll — as you will see.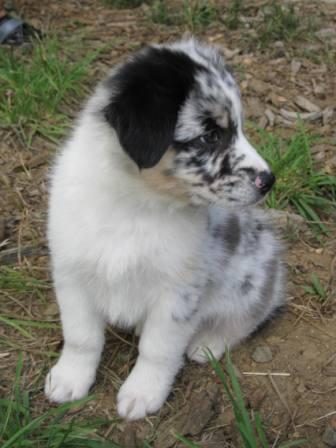 Lilly did well overall. She was cautious. She would circle away, if necessary. There was a fair bit of lip licking, but for the most part, her tail wagged. Many times, she seemed perfectly content to have LuLu around. And, only ONCE did she correct her enough to make LuLu cry. I have it on video, and my best guess is that it was a lesson in bite inhibition. I can't see for sure, but Lilly whips around suddenly, so I suspect maybe some puppy teeth clamped on accidentally.
First of all, there was a LOT of sniffing. LuLu has not seen many dogs with tails, so she found Lilly's behind very interesting.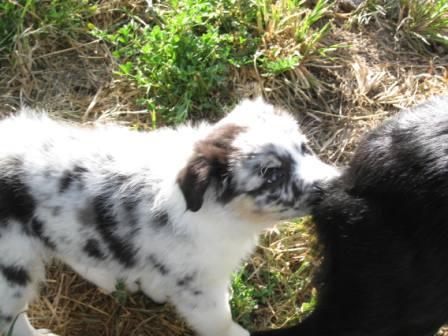 I'll try to edit a video clip later this week of Lilly using a calming signal (sitting down) when LuLu pays a bit too much attention in her tail.
You can see here that Lilly's body language is a bit tense, but clearly LuLu is looking for approval. And, Lilly's tail is swinging.
I had forgotten how hard it is to photograph a puppy who has no concept of STAY or that cameras inherently mean hold still. So, she's a little blur here, but I love the smile on Lilly's face.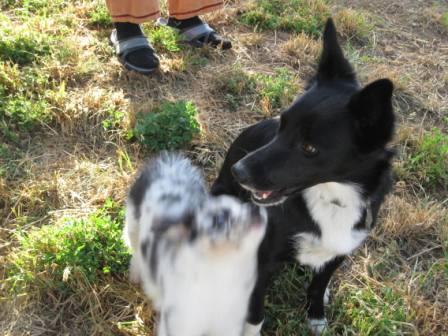 The only way I got this shot was by waiting until LuLu tired out, then I had Lilly slip in a DOWN-STAY next to her.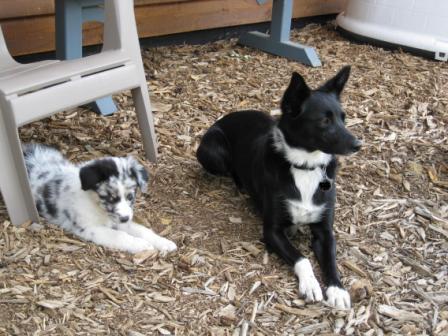 That's all for now. I'm exhausted. More info and even video (I hope) later this week.