Over the holiday weekend, I drove Clover 195 miles round-trip to do another herding instinct test. We tested her the first time in June 2015, just after she turned 1. This time — maybe thanks to more maturity — it went quite a bit better in several ways. The raw video file added up to 1.5 GB. Yikes! So, I edited it down to a few highlights.
Border Collie Clover's Herding Instinct Test
Valdemar Farm where we have played at herding over the years is WAY out in Fort Lupton, Colorado. It's a long drive in good weather and traffic. The farm hosted a "fun day" over the weekend where dogs could try things like herding, barn hunt, and lure coursing.
Clover ONLY tried her hand at herding.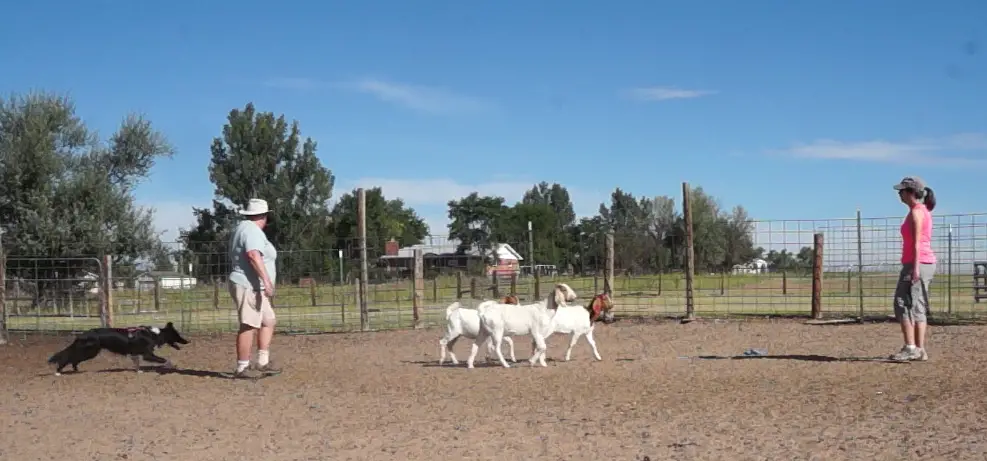 I'm already overwhelmed with all the things I'm teaching Clover to do, so any kind of nose work is on hold for now. And, I'm not keen on letting her chase fast-moving things since she has shown interest in chasing cars and since she and Tori caught (and killed) a bunny a couple weeks ago. RIP driveway bunny.
Herding Instinct Test Results
GOOD! Stalking approach using the "Border Collie Eye" and a crouched head and body position
GOOD! Willingness to continue working even after being corrected (flapping flag and verbal interruption)
GOOD! Ability to work with a more experienced herding dog, including "balancing" to him (moving as he moves to stay on opposite sides of the flock)
GOOD! Much better distance from the goats as she circles them (flanks them)
GOOD! Doing better at keeping the goats from cramming up against the fence
GOOD! Figuring out that if she does a LIE DOWN (to take the pressure off the goats) that they will stay put
NOT so good! Chasing and harassing the goats sometimes
For comparison, here's how it went a year ago. This was a full test, with Clover going into the round pen several times. (Over the weekend, she did well enough that we only brought her in the ring once.)
Both last year and this year, Clover needed help from an experienced dog. It's pretty fun to watch them work together.
Our trainer thinks I should bring Clover regularly for a while to work stock to see how she develops. I'll need to figure out where that time to drive her out there will come.