I still laugh when I think about how I woke up 2 years ago NOT KNOWING that we'd have another new puppy that day. Despite the challenges of raising 2 young herding dogs at the same time, adopting Tori was a good decision. She and Clover truly behave like soul mates / soul sisters, and she is a good and funny friend to us. Happy Gotcha Day, Miss Tori. We celebrate the day she came home, September 23.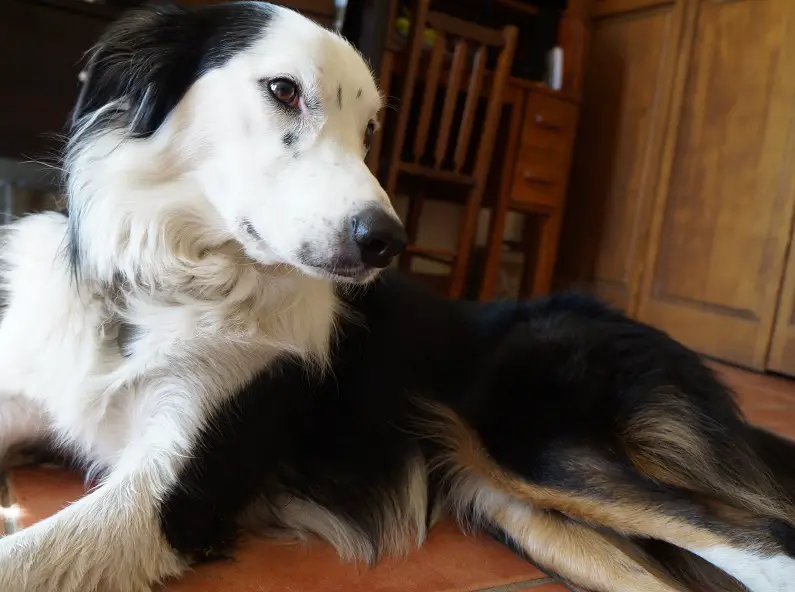 Our sweet girl still seems ALL PUPPY pretty much all the time.
She loves to play frisbee and fetch.
Her leash-walking skills improved a lot this summer.
Her agility skills continue to get better with what we can teach at home (since she still gets WAY too car-sick to go to classes).
She is pretty trusthworthy when she is allowed to be loose on our fully-fenced property.
She does love to dig holes, though. It's just pasture land, so it doesn't matter, but you do have to pay attention when you're walking around.
She comfortably stays home alone, without incident.
Our only real issues remain …
She is a terrible insomniac and wakes us up a lot at night (unless she is crated to sleep).
She continues to have unrelenting car-sickness.
Insomnia
Since she is Tom's puppy, technically, and he is the one who gets up with her, it's up to him to decide if simply crating her at night is the solution or not.
Car-Sickness
As for barfing in the car, in the last week, I've renewed my commitment to taking her for daily drives to see if we can work through the issues or find just the right combination — from the gazillion variables — to solve the car-sickness problem.
If we do not go every day, it's like starting over … again and again.
It has been a mixed bag this week, with Tori throwing up every other day — depending on how far down the canyon I take her before turning back, etc.
I really wish the prescription meds (or, heck, OTC ones) worked the way they claim, but they don't work for Tori.
Video of Our Car-Sickness Challenge
I've been writing about our struggles on our Champion of My Heart Facebook Fan Page as well, but I found this video that a motorcycle rider made of the main canyon road.
It gives you an idea of our challenge. The canyon road has SO MANY curves between here and town (10 miles and about 20 minutes at the speed limit of 35mph) at the start and end of every car ride to go do anything.
I trimmed it down a little so that it starts at about the spot, where our road drops down to the main canyon road.
Even this video makes me queasy, so I can only imagine how the drive feels to our sweet Tori girl.
Car-Sickness Experiments
One day this week, I just drove Tori back and forth on our road, which is pretty flat and not too curvy for almost 10 miles. She drooled a lot but did not barf.
But, that's not a realistic test of what we need, which is to be able to take her down into town for veterinary visits, dog training classes, or other adventures without her barfing herself silly and being miserable. We'd also like to be able to take road-trip vacations with the girls, but that seems impossible now.
The next day, I took her bout the same distance, but a different route, and she was doing great until just before I pulled back into our garage, and she threw up.
Our (late) old boy Ginko barfed once on almost every drive to town his whole life, but that would be it. He would throw up once, and he'd be done. It never dampened his enthusiasm.
I would be willing to accept Tori is the same way and be prepared to stop and clean up, but she tends to get sick many times and be downright miserable.
So, I wish I could take Tori for a really fun Gotcha Day outing, but she can only go about 5 minutes in the car happily, which limits our options.
The best I can do, then, is make life at home and in our neighborhood as fun as possible.
Happy Gotcha Day, Tori.
We love you !!! We can't believe you're such a BIG girl already!