Book Review: Faithfully Yours by Peggy Frezon
Author Peggy Frezon serves as master curator of laugh-worthy, awww-worthy, and cry-worthy animal stories in her latest book Faithfully Yours: The Amazing Bond Between Us and the Animals We Love. Whether it's a tale you may have heard on the news, a viral video of unlikely animal friendships or everyday stories from people you may know in the online animal community, you'll find something to love, something to smile about … and yes, a few things that will bring tears to your eyes. In other words, get ready to cry happy tears.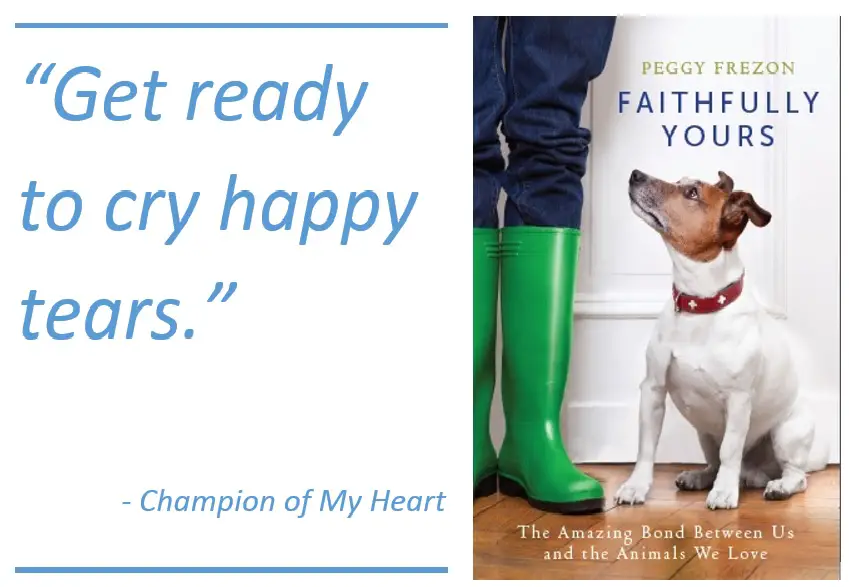 Full Disclosure — I haven't finished the book yet!
Reason #1

— We adopted a new puppy with ZERO notice.

Reason #2

(more details later this week) — Clover is having her spay surgery Friday.

Reason #3

— My current workload is ridiculous. Beyond ridiculous. Like, I'm doing a year's worth of work in about 6 weeks.
I've only read about one-third of the book, but I've already come across great stories from 2 great people I know:
Leland Dirks, who wrote Angelo's Journey, which we reviewed.
He also wrote Jimmy Mender and His Miracle Dog, which we also reviewed.
And, you'll find a story from Pamela Douglas Webster from Something Wagging This Way Comes.
Faithfully Yours Blog Book Tour
So, since I'm admittedly a SUPER-lame book reviewer this time, you might want to check out what others are saying about the book.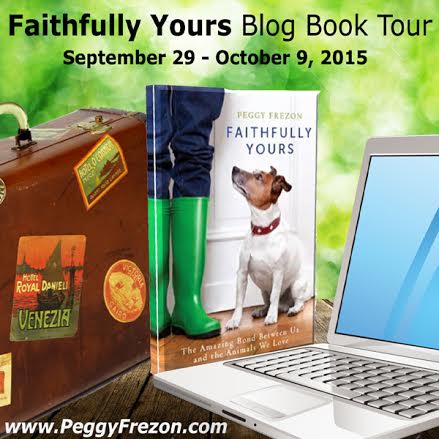 Enter to Win a Copy of Faithfully Yours by Peggy Frezon!
When you leave a comment on any of the Blog Tour book review posts, you will be entered into a big pool for drawing to win one free copy of the book! If you comment on all 14 posts (including this one!), you'll have 14 chances to win in the big giveaway drawing!
Deadline to post comments to count as an entry into the drawing: October 15, 2015
Peggy will choose and announce the winner on: October 16, 2015