Blog Book Tour: Dieting With My Dog Q&A
Fellow dog writer and dog blogger Peggy Frezon from Peggy's Pet Place asked us to take part in blog book tour to promote her new book Dieting With My Dog: One Busy Life; Two Full Figures and Unconditional Love. I'm VERY good at keeping Lilly's weight perfect, and I mean perfect. Even our veterinary nutritionist friend said Lilly had a perfect body condition. Me? As I mentioned last week, not so much. So, I asked Peggy a few questions about her weight-loss journey.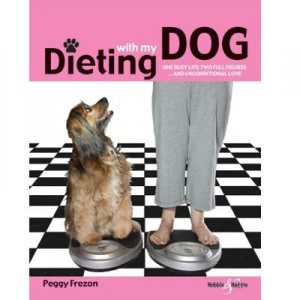 Who lost weight faster / easier you or your dog? Did you ever feel jealous?
Kelly lost weight faster. And once she lost the weight, she kept it off pretty easily. I never felt jealous because we are a team– she motivates me to keep up the good habits for both of us.
Name the top 3 ways people sink their own weight-loss efforts?
Denying themselves delicious foods all the time (I say you can allow yourself a small portion of something you love once in a while, as long as you keep it in control) .
Not adding exercise to their daily routine.
Not seeking out support (especially support from a furry best friend!).
What advice do you give about setting realistic weight-loss goals and timelines (for people)?
The book is not really a how-to, but I do share my own experience, and from that I would say that losing one or two pounds a week is a realistic goal for most women.
Any ideas for getting through the holidays or other stressful times for emotional eaters?
I learned to focus on friends and family more than on the food at holidays—spending time together, taking walks, having fun. I was largely motivated to lose weight so that I'd be healthy enough to spend more time with my family…and of course that includes Kelly!
How did you stay encouraged when you hit plateaus?
I kept in mind that the weight would come off if I kept up the good habits. I tried not to get discouraged and revert back to overeating or working long hours without any exercise. Kelly always helped remind me that I was doing the right thing. She'd come up to me and snuggle beside me, and look up at me with her big eyes, and I'd know we were in this together.
***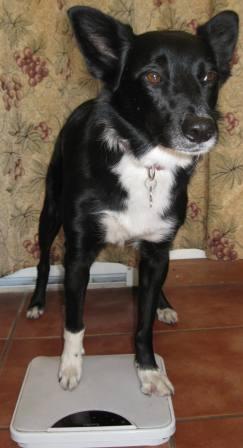 Our scale is pretty small, so I couldn't convince Lilly to sit on it as part of Peggy's funny gallery of photos of dogs on scales. This is our best try.
However, when I want to weigh Lilly, I usually weigh myself. Then, I pick her up and weigh us both together. It isn't perfect, but it works OK.
I wish keeping myself fit and trim was as easy as keeping Lilly lean.
Maybe I should put her in charge of my meals? Do you think she is up to the task? She is VERY smart, you know.
How about you? Do you find it easier to control your pet's weight or your own?