Dog Book Review: Pure Gold
Fellow Coloradoan (by way of California) Holli Pfau co-founded a nationally recognized program for animal-assisted therapy in hospitals. She shares her adventures, starting with Golden Retriever #1 Nikki in her new book Pure Gold.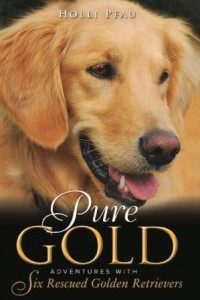 With little reading leisure in my schedule, Pure Gold rumbled around with me for a few weeks. I managed to read a chapter here, a few pages there. Then, a couple of Saturdays ago, I had to work anyway.
After wrapping up whatever drafts I needed to extricate from my noodle, I hunkered down to make a real dent in Pfau's book — Pure Gold: Adventures with Six Rescued Golden Retrievers.
Book Review Pure Gold: Adventures with Six Rescued Golden Retrievers
I mentally stood shoulder to shoulder as Pfau:
Changed careers and co-founded the hospital program where dogs comforted people in situations eerily similar to what I've experienced these last three years
Added dogs to her family, including one not-quite-rescue dog who surely needed to be saved from the breeder's kennel
Dealt with skittish new dogs
Suffered through a rattlesnake bite emergency (Our Lilly has survived 2 such bites to the face, if you're new to our ongoing stories.)
Transitioned her life to Colorado mountain living
Waited for news of her house during a terrible wildfire
All that … in the first 125 pages. Whew!
And, then as has become so common that I intend to institute a new book review policy in 2012, I came across a dog "dominance" reference that broke my heart.
Tucker, the dog who delivered a measured and appropriate rebuke to a rambunctious puppy, wasn't exerting dominance. He was merely showing and sharing solid dog-dog skills. Nothing more, nothing less. He simply gave the equivalent of a "Cut it out!"
That's where I stopped reading.
Pfaus writing is clear and engaging. Her vignettes rung all too familiar to a girl like me, including rattlesnake encounters, wildfire fears, and revelations about the importance of witnessing sad things.
In real life, I'm confident we would be friends. I applaud her work, her spirit, and the goal of raising money for rescue organizations.
I recommend the book.
Those of you who know me at all know how I feel about scientifically false, entirely debunked alpha / dominance / pack leader baloney that often leads people to treat dogs poorly.
Coming across references that appear to give legitimacy to such old-fashioned ideas about dog behavior and motivation … even in books I like very much … ruins the experience for me.
As my writer friends like to say, "Your mileage may vary."
Pure Gold: Adventures with Six Rescued Golden Retrievers Giveaway
Goodness knows we have local friends and neighbors who are huge fans of the golden retriever breed, and I considered giving the book away as a personal gift.
BUT, with the holiday season looming, I thought perhaps one of you might like to give it away as a gift. So, as usual, please post a comment below to enter the book giveaway. The deadline to comment on this blog post is midnight (mountain time) Sunday, November 27, 2011. I'll draw a random winner on Monday, November 28, 2011.