When a puppy gets car sick, many tell you that the puppy will outgrow it. And, you hope. Then, reality sets in. With Tori's second birthday coming up in July, we've renewed our pursuit of a solution to her relentless car sickness once and for all. Below is a list of all the meds and home remedies that have failed and preview of our behavior modification strategy to try and fix canine car sickness.
Canine Car Sickness Challenges
The problem with having a very car sick dog where we live is this:
The first 10 miles / 20 minutes and
the last 10 miles / 20 minutes of
EVERY drive means treking along our canyon road,
with many curves and some steep sections.
This is Tori's worried face from a trip to puppy class in November 2015. Things have not improved.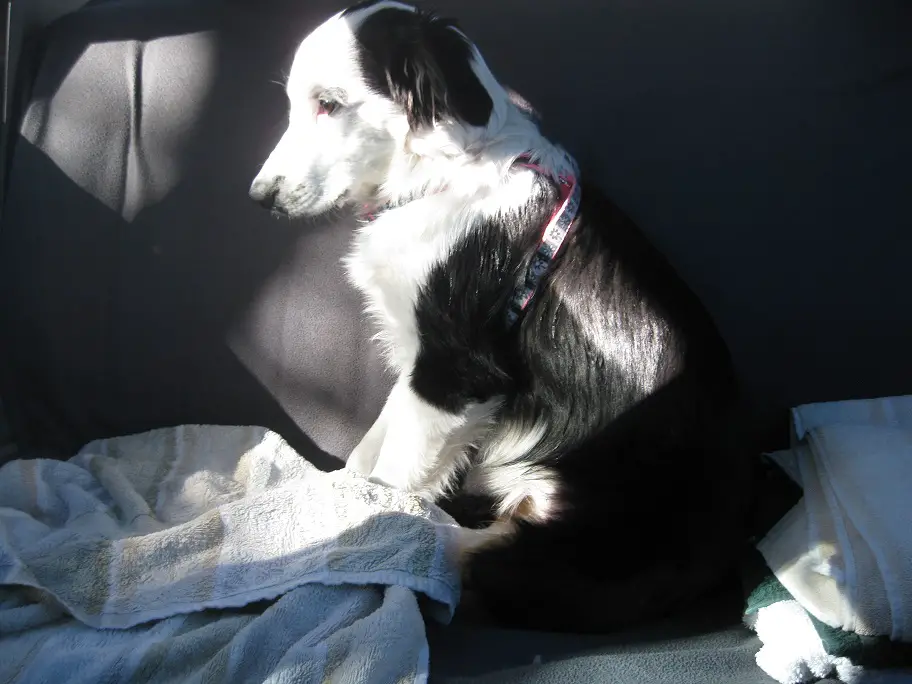 Canine Car Sickness Options
Here is the full list of the home remedies and prescription meds we tried in our quest to fix Tori's extreme car sickness:
Candied ginger
Ginger snaps, including the very special ones from Trader Joe's
Mint-ginger drops
Compusure calming chews
Dramamine (over the counter)
Cerenia (prescription / very expensive)
Xanax (prescription)
Cerenia and Xanax together
CBD oil
** Note: Tori's pet insurance policy has a lifetime exclusion for car sickness because it's considered a pre-existing condition. No kidding.
In addition, we tried:
Changing where her crate is placed
Changing which way her crate faces
Not using a crate at all
Harness on the seat
No harness
My 4Runner
Tom's truck
One of us sitting with her in the front seat
One of sitting with her in the back seat
Windows up
Windows down
Taking tiny drives every day for several weeks
Leaving for puppy class an HOUR early to give her tummy time to settle — Tori gets there and is miserable the whole time, so we stopped going.
We did get to a point where if we did NOT feed her at all before she needed to get in the car and gave her meds as much as 3 hours early, then she drooled a lot … and maybe barfed up some drool, but that's it. It remained an unhappy experience for her. Every. Single. Time.
Our Best Successes in Canine Car Sickness So Far
In the fall of 2016, we tried CBD oil on an empty stomach and took Tori down for her veterinary appointment (post-op). She made it all the way to the veterinary clinic without throwing up. She seemed miserable, but no barfing.
She even made it to within 1 mile of our home on the way back … before she threw up.
I thought we'd finally hit the jackpot in the ongoing canine car sickness drama. Alas, no.
The one and only car "trip" that Tori can manage without throwing up is the 2-mile drive (in our neighborhood) to a hiking trail. It's 2 mostly straight roads (one with a roller-coaster-like hill) to the trail head. So, that's something.
Here she is riding solo to the trail head last weekend. 
The one and ONLY time Tori rode in the car without throwing up was the day Tom shocked us all and brought her home. 
Canine Car Sickness – Advice from Pal
After seeing the miraculous transformation that Leslie May from Johann The Dog and Raise a Green Dog made with her youngest dog Rach (who had VERY similar canine car sickness issues and who has to survive similar mountain roads where they live), we've recommitted ourselves to building Tori's car confidence from the ground up.
Leslie and I spent about 90 minutes on the phone last week so that she could explain her strategy with Rach. It took her 3 full months of daily work.
The good news is that we didn't need to backtrack as much as Leslie did. You see, Rach started getting upset when she turned on the shower. He had back-chained his worry all the way to her getting freshened up and dressed in the morning. Wow!
Canine Car Sickness – Our New Plan
The behavior modification plan starts with changing how Tori feels about the car — with food. Basically, I'm feeding all of her meals in the crate in my car. Each day, I add more reality to the scenario:
Locking doors
Putting on my seat belt
Playing the radio & yes, even singing (like I do when I drive)
Putting the windows up and down
And, so forth
Once I had her happily running to the car to eat, then I opened the garage door, then I backed out, then I made a loop in our parking area. We're repeating all this with Tom's truck as well.
We will start doing short drives again soon — every day.
Canine Car Sickness Solutions – One Size Does NOT Fit All
With Rach, Leslie figured out that if he could be in the center of the back seat, in a harness, where he could FACE FORWARD and SEE out the windshield … AND she kept feeding him along the way, then he did fine, but even now, if he lies down, he pops right back up because he starts to feel sick.
I'm pretty worried Tori having food as we're driving because BARF CITY, but we'll see.
I would guess that the right combination is different for every dog, but the ONE CONSTANT is that you first have to change how the dog feels about the car first. That's the place to start.
Look for more updates on canine car sickness as news warrants. I'll even try to get some video.