Neutropenia in Dogs – A Clover Update
June 20, 2017, Clover had a bone marrow biopsy at Wheat Ridge Animal Hospital in Wheat Ridge, Colorado. It took longer than expected to get the full biopsy results from the veterinary pathologist at the University of Michigan, where the core sample was sent. The results answer some critical questions and raise others. Here's what we know and what we don't.
Neutropenia in Dogs – A Clover Update
When last we checked in on Clover's medical mystery, we shared that her neutropenia itself — right now — isn't itself a danger, but a possible cause might be.
The blood test looking for a possible endocrine problem (Addison's Disease) came back negative, as expected, but it's good to rule that OUT since it can cause dogs not to be able to produce enough neutrophils even when challenged by infection.
So, we went ahead with the bone marrow biopsy, under full anesthesia. Here is an updated list of what we've RULED OUT based on the tests we have run and her symptoms (which are nonexistent, other than the neutropenia itself):
No infections.
No cancer.
No endocrine problems.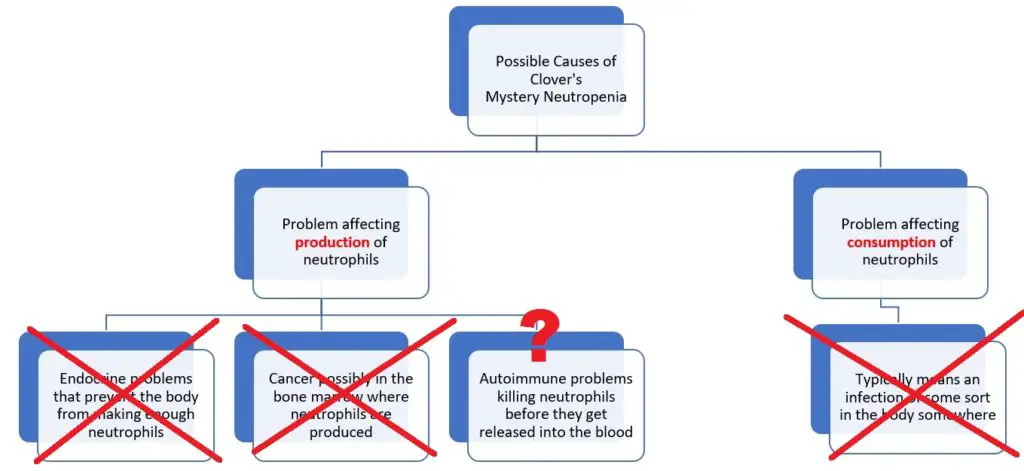 Neutropenia in Dogs – Immune-Mediated Neutropenia
The good news from the bone marrow biopsy is that the pathologist can see ALL 8 STAGES of neutrophil maturity. That destruction is a key indicator of immune-mediated neutropenia.
Typical presentation of the immune issue is that they see a LOT of very young neutrophils in the bone marrow sample but not very many mature ones, OR when they do see mature ones … they can also see that other white cells are destroying them. Neither of those things are the case for Clover.
It was a relief that all 8 stages are there. However, Clover's bone marrow shows low numbers across all of those 8 stages.
There is no evidence they are being destroyed along the way, which is GREAT.
BUT, she is just not producing very many. That could mean we caught an immune issue early, or it could mean that she simply is a dog who doesn't produce many and that's normal for her.
Neutropenia in Dogs – A New Study Just Published
It turns out that the largest ever study reporting bone marrow findings in dogs with presumed primary immune-mediated neutropenia (IMN) just got published in June 2017. Our specialist was kind enough to get me a copy of the study to read so that I could see for myself what (if anything) Clover had in common with the dogs in the study.
It was comforting to read the following quote from the paper. It completely validated the testing decisions I've made for Clover since February, even though her numbers are NOT as severe as the dogs in the study.
"IMN should be considered in any dog with persistent severe neutropenia dispropotionate to clinical signs; it can be present in subclinical cases. A thorough history, physical examination, and diagnostic testing, such as vector-borne infectious disease testing (depending upon geographic prevalence), should be performed to rule out other aetiologies of neutropenia. Bone marrow analysis should be considered to help rule out malignant neoplasia and myelodysplasia."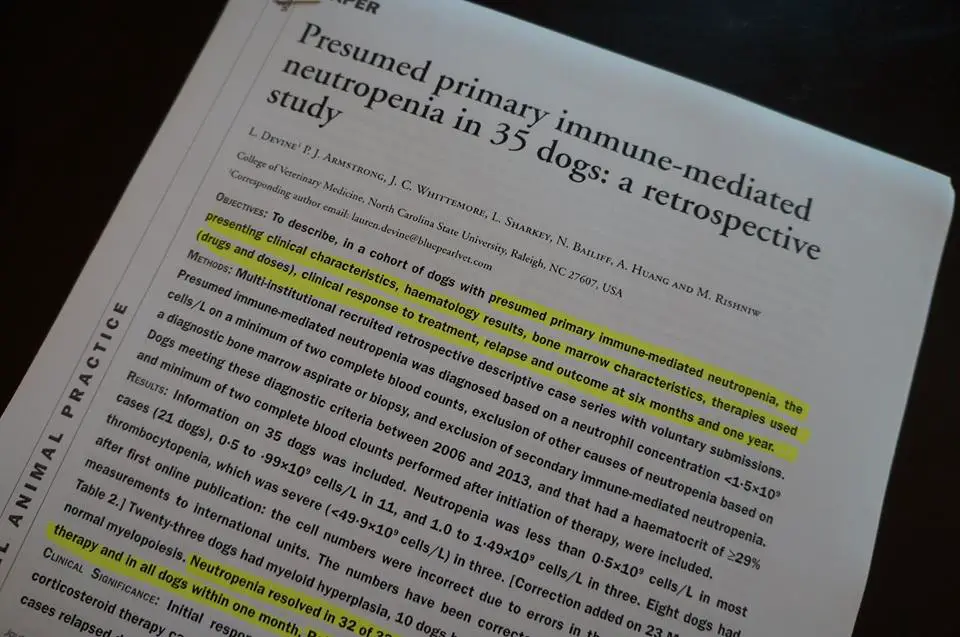 PAPER CITATION: Devine, L., Armstrong, P. J., Whittemore, J. C., Sharkey, L., Bailiff, N., Huang, A. and Rishniw, M. (2017), Presumed primary immune-mediated neutropenia in 35 dogs: a retrospective study. J Small Anim Pract, 58: 307–313. doi:10.1111/jsap.12636
Here are the parts from the paper that seem relevant to Clover's case:
Immune-mediated neutropenia is uncommon in dogs, and it's typically found by exclusion — meaning they rule out a bunch of other things first.
Diagnosis is made based on neutrophil concentration disproportionately low relative to clinical signs.
Prevalence of IMN has been reported at 0.35% to 7% of dogs examined for neutropenia at referral veterinary hospitals.
While typical symptoms include fever, lethargy, anorexia, vomiting, lameness, and reluctance to rise, some cases have been diagnosed on the basis of subclinical neutropenia on wellness blood work. 11% of the 35 dogs fell into this subclinical category.
That's how we found Clover's neutropenia. Initial discovery described in this earlier blog post.
For this paper, neutropenia was defined as absolute neutrophil numbers lower than 1,500.
That's much lower than what we've seen in Clover. In her most recent blood work, Clover has been hovering around 2,200, which is lower than her tests earlier this year and much lower than she had in blood work when she was younger (noted by the bar on the right).
The good news from the paper is that all dogs responded well to treatment with steroids, within 2-4 weeks. Their neutropenia resolved.
The bad news is that 34% of them relapsed within one year during or after the tapering of steroids or other immunosuppressive meds.
Having been through long-term immune suppression with our original canine heroine, Lilly, the insights into treatments and relapses is quite upsetting for me.
Neutropenia in Dogs – Wait and See
So, we don't yet know if Clover is headed toward immune-mediated neutropenia or if she simply is a dog who naturally makes fewer neutrophils.
Only time will tell.
According to our specialist, about 1/3 of the dogs in the study had bone marrow biopsy results similar to Clover's.
We will monitor the situation through exams with our board-certified veterinary internal medicine specialist and blood tests (complete blood count) in August and then every 3 months after that, waiting to see:
If her neutrophil numbers hold steady, improve, or decline
If she remains totally free of other symptoms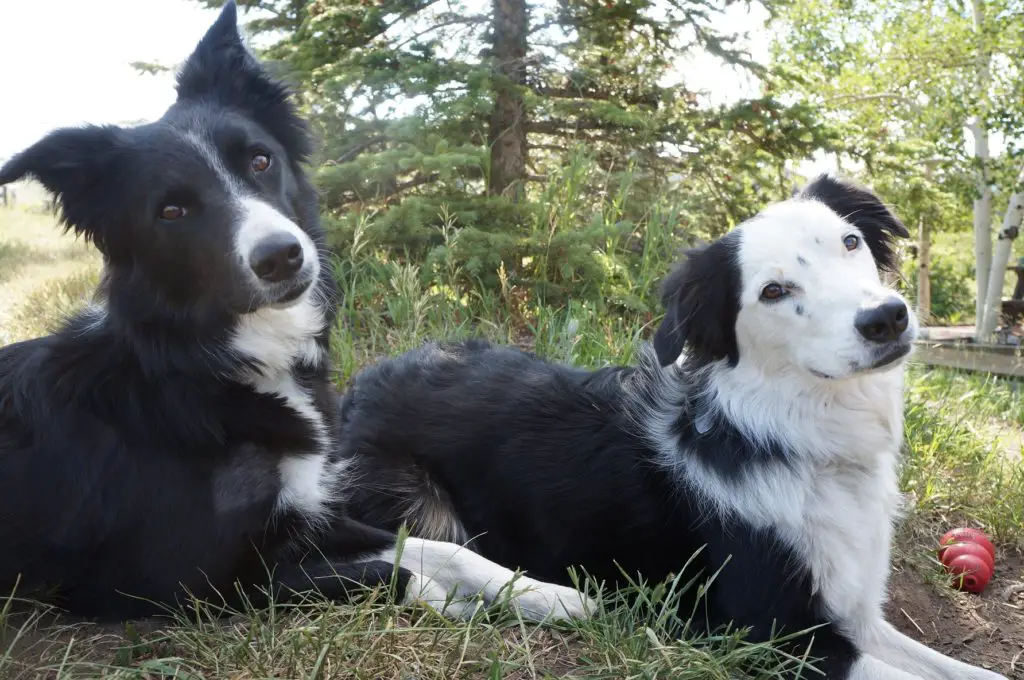 So for now, we'll continue with life as usual, despite this experience with neutropenia in dogs:
Daily 3-mile walks with me and Tori
Longer hikes on weekends when doable
Weekly agility classes
At-home agility training, including MAJOR improvements in her teeter-totter training (woot!)
Occasional advanced "pet" dog training classes in Boulder with our main trainer, when we can make the drive and weather allows
Lots of playing fetch (or Clover's style of keep-away)
Unlimited playtime with her soul sister, Tori
Any other meet-ups or adventures that come along
Basically, we're going to try to believe that everything is fine unless something tells us definitively otherwise.
---
In the meantime, I will continue to avoid letting the low-grade worry about neutropenia in dogs overshadow me in a variety of ways, including wearing my new Clover TRIBUTE bracelets!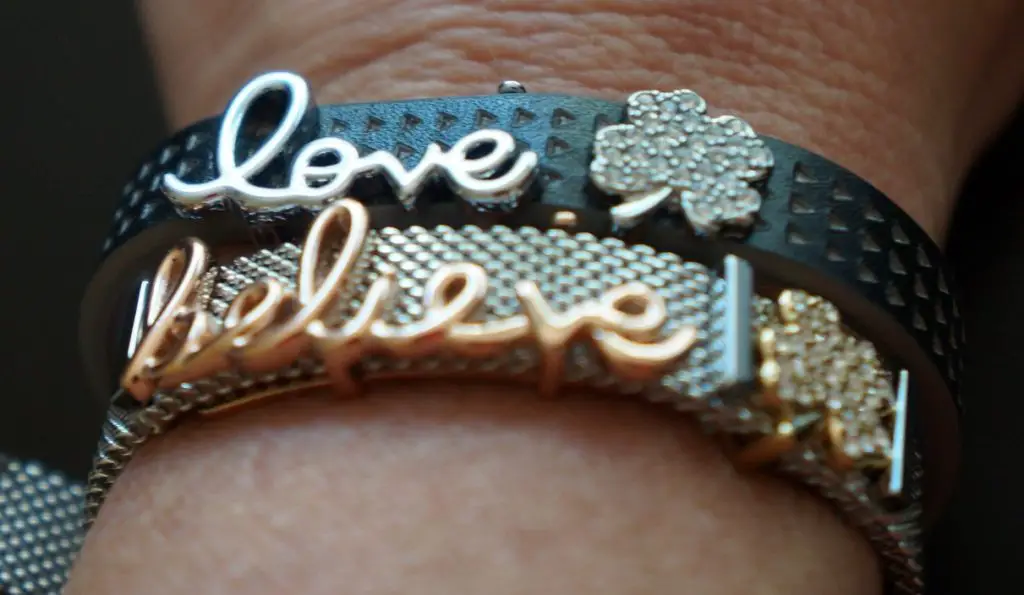 And, by knitting as a form of meditation. I finished this shawl while waiting for Clover's test results.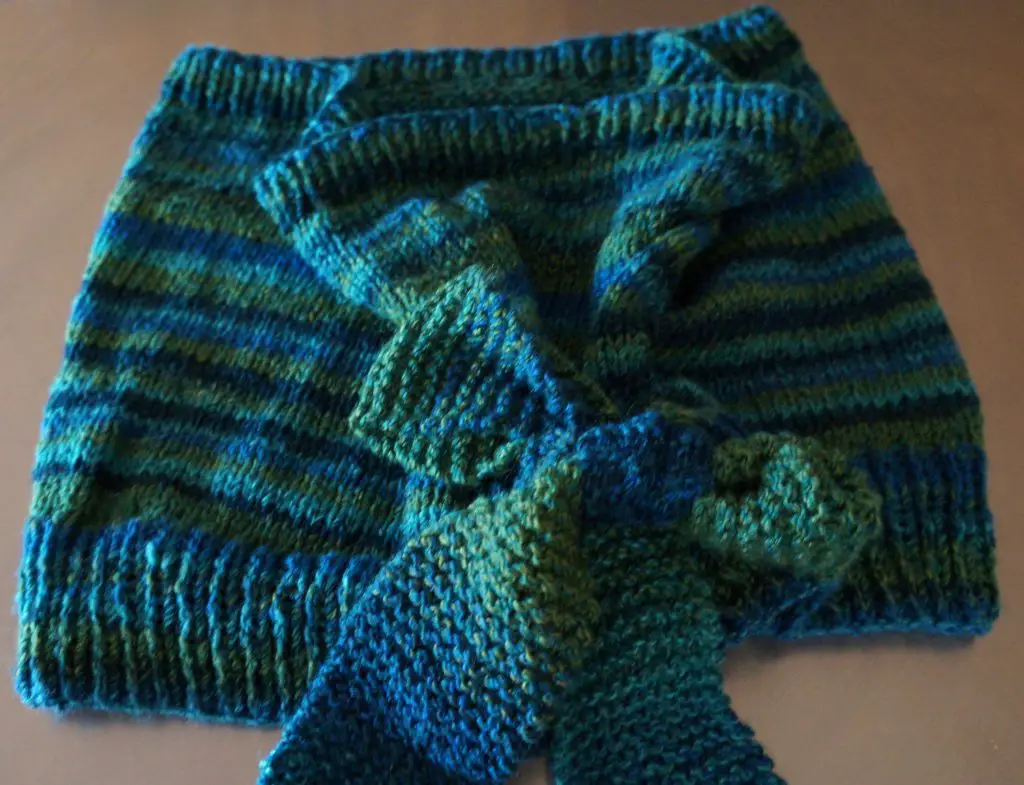 Since the results took longer than expected, I bought more yarn and started making this project … I'm doing it in a variegated purple yarn.