Dog Book Review: Bark and Lunge by Kari Neumeyer
Bark and Lunge: Saving My Dog from Training Mistakes is a memoir by Kari Neumeyer, who is a fellow freelance / independent writer. It tells the story of a German Shepherd Dog named Isis (bought from a breeder on impulse). Let me just say that the breeder specializes in police and military working dogs. With just that bit of information and the book's title, you can probably guess where the story goes from there.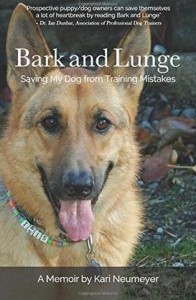 If you've ever lived with or tried to rehabilitate a fear reactive or fear aggressive dog, you'll find the highs and lows with Isis familiar. One step forward. Three (or three thousand) steps back.
If you've been lucky enough never to have worked with a dog with issues, read the book anyway.  It'll save you a lot of heartache because you'll know what NOT to do.
Bark and Lunge is the story of the perfect / not-so-perfect storm of:
A dog not bred to be a typical family companion
Excruciatingly bad dog training advice
Bark and Lunge could just have easily been titled 1,001 Ways to Screw Up a Good Dog.
For my tastes and sensibilities, the book gives He Who Shall Not Be Named too much attention. The book ultimately shows those old-fashioned (and dead wrong) ideas about dog dominance and punishment-based training to be detrimental to dogs like Isis. Until then, I writhed in my chair for at least 7 chapters. My heart often screamed, "Kari, no!!!!"
To her credit, Kari never used a shock collar on Isis.
Even when Kari's strategies turn toward the positive, the parade of dog training "experts" is disheartening, but all too real for many people facing similar issues with their dogs:
Advice gets followed.
Mistakes get made (a lot).
Consistency is an issue.
Dog behaviors improve little (if at all).
Denial about the seriousness of the matter abounds.
Eventually, re-homing and euthanasia come up.
I promised Kari that I would NOT give away the book's ending. Not an easy promise to keep.
Final Word
I recommend you read Bark and Lunge, with this one caveat … if you know how dogs learn, if you truly understand fearful dogs, if you eschew heavy-handed dog training, this book will make you uncomfortable.
And, yet, like with other tough subjects in life, it's our duty it to those suffering to witness their trials, to learn what we can from others' mistakes, to see the results in their unflinching glory.
If you are working with a reactive dog (or plan to in the future), I guess I'm suggesting you owe it to Kari and Isis to read this book.