Weekly Training Update (June 4)
I know I should rename this much-overdue dog training report something like Monthly Training Update since the whole weekly concept fell to the gutter of real life. We've been otherwise occupied in a million ways. So, I'm sorry we haven't had much to report. However …
This week, Lilly got to meet Joelle, the new German Wirehaired Pointer in the neighborhood.
We took a nice side-by-side walk together on Tuesday. And, it went OK. Not great. Not terrible.
My Mistake
I should have leashed Lilly from the get-go because when she realized Joelle and Debbie were waiting for us at the top of the driveway, she ran out and barked at them through the fence. This upset Joelle who is at a tender age.
So, Miss Joelle hopped around and barked a bit, like a scared pup, at first. (She started her own puppy classes this week, so that should be great for her to work around and play with other pups.)
Lilly Settled In
The good news, though, is that Lilly settled into a routine she knows well. She walked on the far side of me and got treats for pretty much ignoring Joelle.
Even though, Jo was VERY interested in Lilly … staring at her, hopping in her general direction … Lilly just walked and walked without issue.
A couple of times, she moved toward Jo and began to curl her lip some, but I called her off, and she was fine.
The Sniff
As we approached home, after our 30-minute, out-and-back walk, the girls were hot and tired, so I figured we could safely let Jo give Lilly a sniff.
I got Lilly focused on me, and we let Jo come up from the back and sniff her. Lilly did great. I fed her treats, and she didn't even give the bottom biz any notice.
And, for her part, Jo did a nice, polite sniff. No jumping around. No trying to put her paws on Lilly's back. Generally, no wild puppy behavior.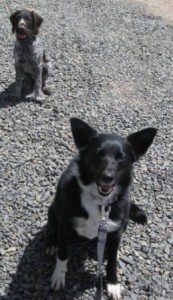 Sitting and Smiling
We did some SIT as a group, and both girls did great. I didn't ask them to sit too close to each other, so that helped.
We'll try to find more time to continue on these walks for a while, before we attempt any off-leash "play" time.
For now, I'm just happy we finally found a spare second so that our girls could meet and perhaps begin a doggy friendship that could last both their lives.
P.S. Puppy Kissing
I even managed to drop Lilly's leash so that she could do whatever at the top of our drive while I had a little kiss and cuddle with Miss Joelle. Lilly took the opportunity to jackpot herself, by diving face first into my bait bag. Touche.