Urns Schmurns – What I Did With My Dogs' Ashes
It took me more than 2 years to find something just right for Lilly's ashes. I thought about it often, but I didn't look around much until after Ginko died in January 2016. Suddenly, I needed a container for each of them. Off we went to a local antique mall.
I certainly don't begrudge the sellers of actual urns for dogs' ashes, but they can be quite pricey. We had this idea of putting Ginko's ashes in a big tennis ball because he loved playing fetch so much. There is an urn like that, but it was several hundred dollars, which seemed silly when I could buy a really big tennis ball for a lot less, but then Tom came up with a hilarious idea.
Ice Bucket for Ginko
No kidding. Like from a home bar set. Ginko loved ice — especially in his final months when we had to monitor his water intake or suffer the messy / wet consequences of his total incontinence.
We had hoped to find an Art Deco ice bucket, but we didn't see one like that, and Tom latched onto this stone ice bucket because it's different and because it feels monumental. It's about 10 times heavier than you'd expect. We paid about $70 for it.
Tom still wants to do some things to the ice bucket before we move Ginko's ashes into it, so it's on the kitchen counter for now, but when it's ready, the bucket will go on a shelf in my office.
Ginko's ashes are still in a plain tin inside this bag at the moment.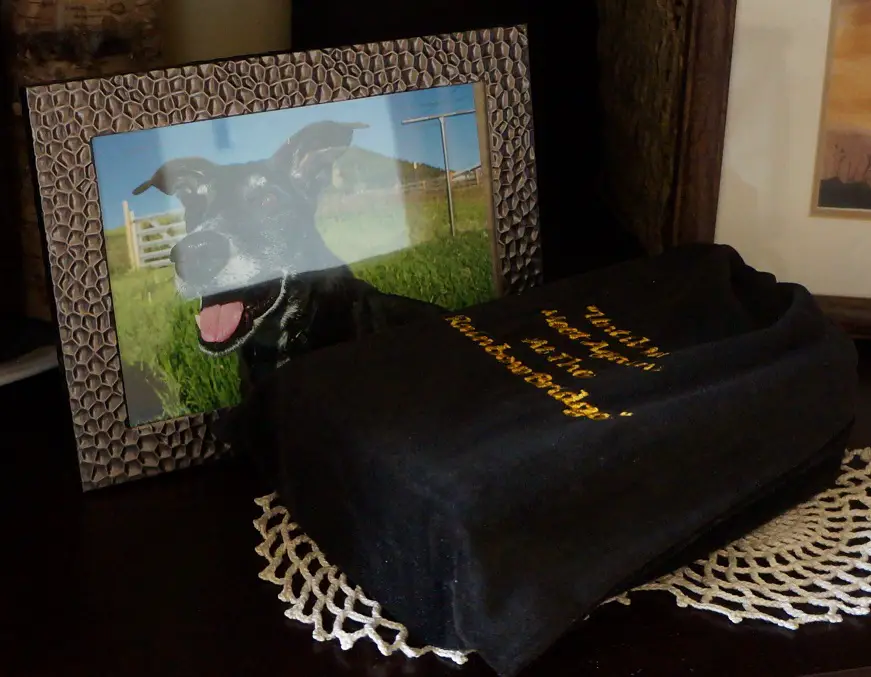 Vintage Purse for Lilly
I really had no idea what I wanted for Lilly's ashes, but I never really liked the little wooden treasure chest she came back in. Then I saw this little vintage purse. It almost looks like a travel case, and I liked the idea of Lilly being off on an adventure.
Another big plus is that there is room inside the purse for her ashes, her favorite ball, and other little memorial items. We paid about $15 for it.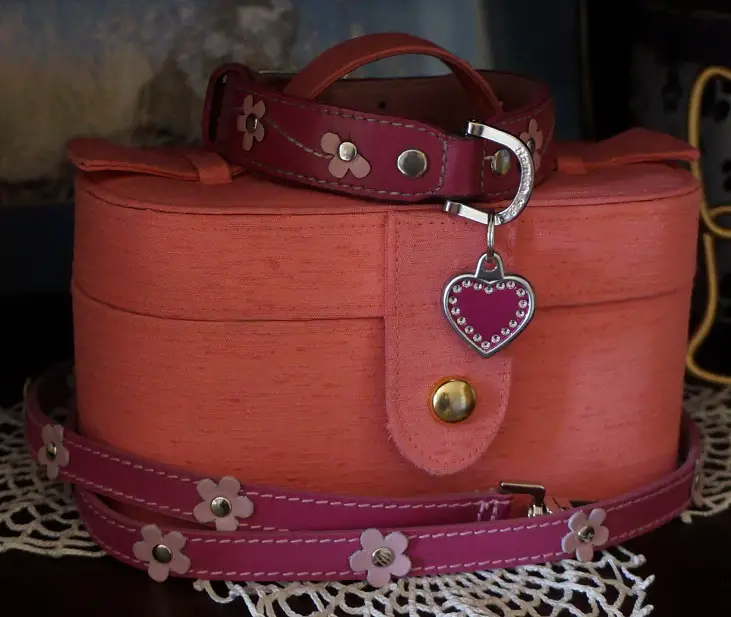 Other Creative Dog Urn Ideas
In our afternoon's quest, we came across other things that would also make for creative urns for dogs' ashes:
Tea pots (lots and lots of vintage tea pots from which to choose)
Other bar items, including a mosaic martini shaker
Vintage kitchen storage items like cookie tins and such
Old cigar boxes
Our Penelope's ashes are still in the original paw-print tin we received. Our Cody's ashes are in a lovely wooden box that Tom picked out, way back. They are on the same shelf in my office with Lilly. Ginko — because his death is more recent and because his ice bucket is so heavy — will be on the shelf below that.
What kind of containers have you kept pet's ashes in?