Our Canine Evacuation Plan
After I read this entry over at Days of Speed & Slowtime Mondays and after interviewing veterinarians who made it through summer floods in Iowa, I decided to develop a dog evacuation plan. Around here, the danger is primarily wildfire, which generally means a decent amount of notice to evacuate. Here are the details:
Dog I.D.
Gather key dog identification information (rabies tag #s, microchip numbers, etc.) and write them down along with lost/found reporting phone numbers on a page that'll go inside your evacuation kit.
Check online to make sure that the information linked to your dog's microchip numbers is accurate. Ours was not. The majority of the information I provided on the paper form way back when they were chipped DID NOT make it into the database.
Create LOST dog posters and print them out. In the event the worst happens during evacuation, you can make copies fast. Use very clear language, but not too much of it. Posters need to be simple to be effective. Include a clear photo of your dog that will reproduce well.
Make a list of every animal shelter (phone numbers and locations) in your area, and put it in your kit.
Health Records
Dig out your dog's current vaccination certificates, and put copies of those in your kit too. I scanned ours and printed out copies since I didn't have quick access to a copier. Plus, now I have an electronic version.
Write down your veterinarian's name/location/phone number as well as any medications, doses, pharmacy, prescription numbers, etc. and put that list in your kit.
If you have pet insurance, put copies of those forms and policies in your kit.
Grab List
Since many of the items you'll need to grab in an emergency might be perishable or in regular, daily use, jot down a grab list of the items you must remember to grab before leaving. Mine includes:
2 crates
2 leashes & head collars
Muzzle
Clicker
Medicines for both
Food
2 bowls
Water jug
Bait bag
Toys
Other than the crates, most of these items reside in the kitchen, so it's a pretty quick grab for me.
Burn a CD
I also burned the lost posters, additional photos, the vaccination and other health records onto a CD, just in case I need to print out copies after leaving the house.
Portable Container
Buy a durable tub with a lid for your evacuation supplies. The paperwork, the CD, and the grab list will always be inside. I plan to use really large (2.25 gallon) Ziplocks for food. Rather than keeping food in the tub, which might go stale, I'll just quickly fill the big food bag before we leave.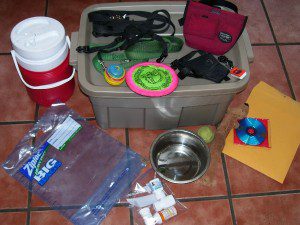 I'm also considering getting some this new Whole Meal product to keep around the house. Each bone-shaped portion is a "meal." It might be easier to transport, and it might offer some chewing satisfaction to nervous dogs.
I still need to put together our people evacuation stuff, but it makes me feel a tad bit better knowing that I've thought ahead as much as I can.
P.S. From our move 7 years ago, I know that both crates, 2 people, and the tub will fit in my car.