Over the holidays, I went back to walking Clover and Tori separately. Since cold temps and icy roads kept us home, we mostly worked on our own driveway — with some short stints up to the corner and back. I don't ask for or expect them to walk at perfect heel, but I do want them NOT to pull so hard that it breaks my natural stride. We did make some progress during our homemade Loose Leash Boot Camp for Dogs.
Loose Leash Boot Camp for Dogs
My strategies included:
Working every day for several weeks
Stopping any time the dogs pulled and waiting for them to reduce the tension on the leash — ideally voluntarily (without being asked) returning to a better spot at my side
Turning around and going the other way when they got too far ahead
Sometimes tossing treats on the ground a bit ahead of us so that they focused on the treat and stayed withing the loose leash zone
Working to get them to recognize pace changes by alternately trotting and walking super slow (goal = to get them to match my pace no matter what it is)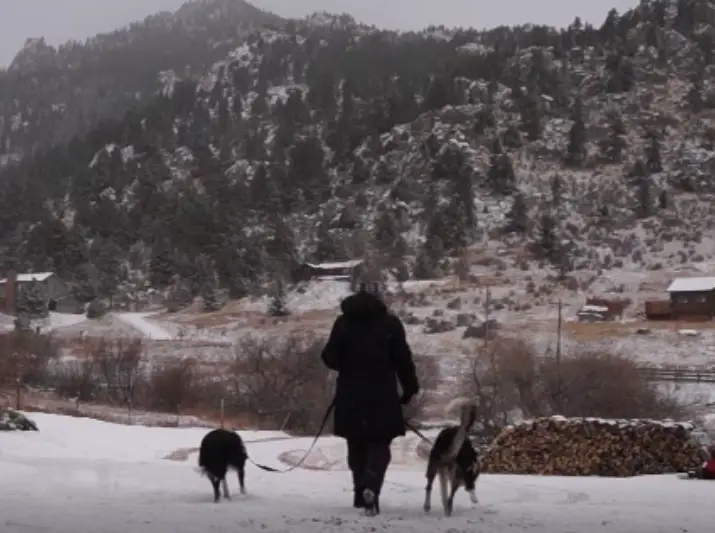 Loose Leash Boot Camp for Dogs Results
Tori is better at recognizing that I've stopped and happily returning to my side. Clover — who is much more engaged with the world around her — does not seem to care at times that I've stopped because looking around is so self-rewarding.
Now that we are walking as a group again, often one of them will be very good while the other one is out ahead. We do have stints where both are good, but that's rarer. Clover is more likely to dive out ahead. Tori often makes wild lunges to the side, so her challenge is more lateral movement … like down steep embankments.
There are places on our routine walking route where they pull pretty much no matter what. This includes between our house and the corner (both going out and coming back). So, I've started trotting that section to try and better meet their needs.
Here are some highlights.
And, because we can all use a LAUGH, here are some bloopers.
Loose Leash Boot Camp for Dogs – 2 Leashes
I'm still going with my preferred method of holding 2 leashes in 1 hand (my left), which leaves my right free to hand out food rewards for loose leash walking. Sometimes, my thumb is in danger if they decide to pull opposite directions.
I know others swear by a single leash with splitter to each dog, but that seems more dangerous to me, if they both pull at once.
Yes, if you watched the blooper video clip above, you can see that we do sometimes get tangled up — especially if someone crosses behind me. Once we get going, we're less likely to get tripped up.
Loose Leash Ideas?
I've been trying to notice as I'm driving around town how many dogs I see walking nicely and how many I see who are pulling. I suppose I'm trying to make myself feel better.
It's just funny to me that I can teach the dogs to do agility WEAVE POLES (which is completely unnatural to a dog), but we struggle with this basic task.
I'd love to hear your best ideas for teaching a loose leash.