Dog Training Update: Herding Challenges
Despite having ZERO time to read for pleasure lately, I'm making my way through a sheepdog book that our herding trainer recommended. It's called Talking Sheepdogs: Training Your Working Border Collie (by Derek Scrimgeour).
While the book primarily deals with training a working / herding dog from puppyhood, I figure its good to know things from the ground up.
I still have a lot more reading to do (even though it's a short book, just 128 pages, with lots of illustrations and diagrams), but here are two things I wanted to share.
Herding Dog Training: Trust and Understanding
In a chapter called "The Special Relationship," Scrimgeour says, "My way of training relies on the tone, volume and insistence in your voice or whistle rather than physical pressure applied to your dog.
"Firstly you will have to set aside your ego and your own (human) interpretation of why certain things happen that may irritate or please you. Instead you will have to learn to read your dog and recognize what he has to cope with and his reaction to it.
"Instead of adding additional pressure to your dog when he is already confused or worried you must be the one he relies on to make things easier for him to understand. If you can do this he will learn to trust you. In fact, he will begin to think he needs you. This is when a really special relationship begins to happen.
" The first step is to get rid of thoughts such as 'This dog is trying to defy me.' If this was the case then why would he do anything for you in the first place. In fact, the dog that appears to be defiant and disobedient is more likely to simply be trying really hard to guess what you want. You job must therefore be to help your dog control the sheep and give very clear advice to him when he has reached a position where is his relaxed enough to listen."
[emphasis mine]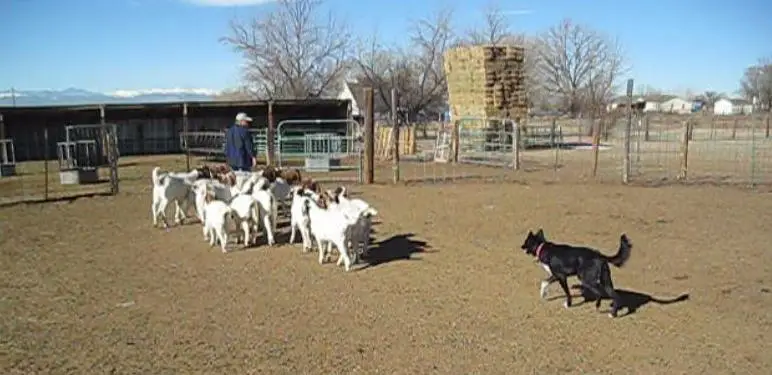 Herding Dog Training: Uh-Oh
The later chapters go on to explain how to move your own body and help control the livestock so that your dog is more successful doing his job.
I suppose it isn't all that different from using your body in agility to cue which obstacle is next or when you plan to cross in front of or behind your dog … except, of course, the obstacles aren't alive and don't move.
sigh
If Lilly needs to rely on me to improve in herding, then I have a LOT of work to do. Maybe I should start calling these … Shepherd Training Updates.
Herding Dog Training: Our Next Lesson
I literally did not take off a single day in March. On weekends, even, I worked long days. So far, April is looking pretty full … including a trip at the end of the month to speak about blogging at the American Society of Journalists and Authors Conference in New York City.
(I hope to see Sam and Marge while I'm there.)
So, I'm not sure when I'll have time for our next herding lesson, but as the weather (finally) warms up, I look forward to giving it another try.
Stay tuned!
***
You can catch up on our herding adventures here:
Lilly's Herding Instinct Test, Part 1
Lilly's Herding Instinct Test, Part 2
Lilly's Herding Instinct Test, Part 3
Lilly's Herding Instinct Test, Reflections
Lilly's Herding Lesson #1, Part 1
Lilly's Herding Lesson #1, Part 2
Lilly's Herding Lesson #1, Part 3
Lilly's Herding Lesson #1, Part 4
Lilly's Herding Lesson #1, Part 5
Lilly's Herding Lesson #1, Reflections
Lilly's Herding Lesson #2, What Went Well