Dog Book Review: Dog Gone, Back Soon
Through a site called NetGalley, I downloaded a FREE review copy Dog Gone, Back Soon by veterinarian / author Nick Trout. It's a clever tale involving fierce competition between veterinary practices (one family owned, one corporate owned) and several veterinary medical mysteries with the animals and people in a small Vermont town. Trout has written 5 books so far. This is the first one I've read because it sounded interesting when it came up on my NetGalley book review list.
I would categorize Dog Gone, Back Soon as so-called Chick Lit, except I'm not sure men can write Chick Lit. So, I suppose a better category would be light / modern fiction. Good plot. Good characters, but not a lot in the way of literary symbolism. This isn't a heavy or hard book to read.
It's perfect, though, if you like the idea of veterinary-focused fiction.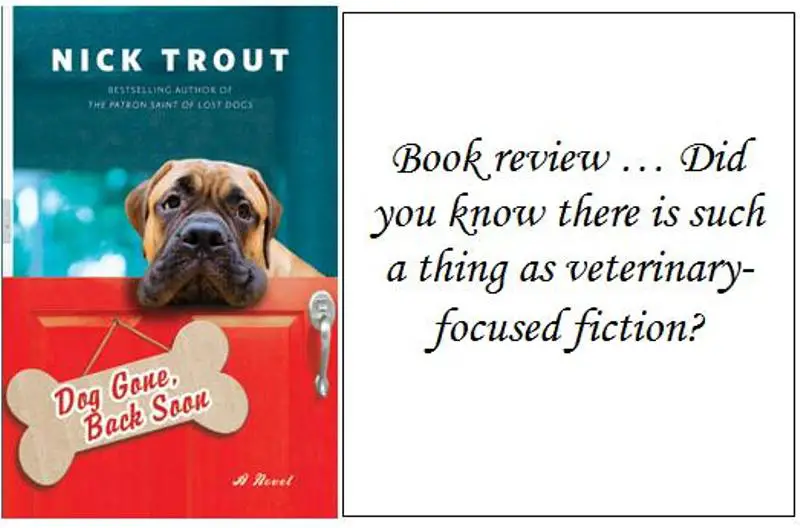 Dog Gone, Back Soon does feature some love interest intrigue, but it's not torrid at all.
The book is definitely entertaining, and I suspect a little controversial in some veterinary circles for its depiction of larger or corporate-owned veterinary practices. For example, I've always assumed video cameras in exam rooms were for the veterinary staff's protection — especially in emergency situations when emotions run high. In Dog Gone, Back Soon, Trout offers another way these cameras could be used, and it isn't flattering to the profession.
The only thing that made me go, "Huh?" were a couple of character descriptions / character motivations that felt a teensy bit sexist. While grumbling to myself on a hike, I remembered that Trout also takes a few pointed shots at male characters in the book, so maybe it all balances out in the end.
I read far more books written by women than by men, so there is a chance I'm being hypersensitive.
Considering the compounded grief at Chez Champion of My Heart in recent years, I found it tough that the book's main character comes home to take over the family's veterinary practice after his dad dies. Fair warning, Dog Gone, Back Soon features a few sad moments — especially if you have lost a parent, have experience caring for your elders, or have seen too many people die alone in the world — except for their pets.
I liked Dog Gone, Back Soon (published in April 2014) enough that I plan to go back and read some of Trout's other books. This is the second in his Bedside Manner Series. The first one is called The Patron Saint of Lost Dogs. Trout's other 3 books are nonfiction.
His books have hit big-time Best Seller Lists, so I'm sure he doesn't really need this book review, but I thought you guys might like it.
Have you read any of Trout's books? What did you think?
Also, it is just my computer, or is his website nearly impossible to read with black text on a blue background?