Carole Moore, my friend and mentor, wrote a powerful, deeply researched account of missing persons and the people who look for them. In some 200 pages, Carole thrusts you into the heartbreak when a loved one disappears.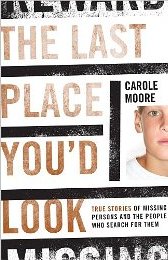 In clean, direct prose, The Last Place You'd Look tells many real-life stories from the view of a:
Former police officer
Modern journalist
She pulls no punches in descriptions of where law enforcement might fail and where families make irrevocable mistakes (like having 1,400 of their own volunteer searchers tromp all over a possible crime scene).
The stories of missing persons and unidentified bodies are gritty and sad, but I never felt a sense of reader despair. I certainly hope with all my heart that I never face a loved one vanishing, but after reading Carole's book … at least I know some of what to expect … including how Amber Alerts and various crime databases work .
Brooklyn Man Disappears While Out Burying His Dog
Of all the cases Carole weaves into her instructive narrative, Carlos Diaz (a man from Brooklyn, New York) stuck out. Distraught over the death of his dog, Carlos tells family members he is going to go bury the dog. He walks out of the house and is literally NEVER seen again.
It had much of the same vibe as these news reports of a teenager who died in a car accident, after fleeing her home with her dog who'd been diagnosed with cancer.
I share these examples, not for sensational news value …
Instead, consider it a plea to all dog lovers to keep an eye on your friends with dogs … if:
The dog is diagnosed with something scary
The dog dies
It's a highly emotional time. Mistakes can be made. Guards can be let down. Terrible things can happen.
Amber Alerts for Pets
About the same time I began reading The Last Place You'd Look, I also got an email (and later had a phone chat) with Bill Rozich, founder of Amber Alerts for Pets.
For just $24.95 the first year and $14.95 each year after that, you can register ALL PETS in your HO– USEHOLD for Amber Alert for Pets support and help should they go missing.
[Be sure the site is AmberAlertsForPets.com … there are others with similar names that have a bad reputation.]
Bill's team NEVER turns anyone away who is in need and regularly releases Amber Alert for Pets lost in natural disasters (for free).
Essentially, Amber Alerts for Pets is a membership association, where people sign up and promise to help spread the word about lost pets in their community from the network of members. This includes:
Pet owners
Pet lovers (who might not have pets right now)
Professionals in various pet care businesses
Bill is always working to add other kinds of businesses with staff traveling local areas to the network. More eyes looking means a better chance of pets being found.
When a pet is reported missing to the network, Bill's team releases and email blast into that local community with LOST PET fliers that look like WANTED posters. These emails have a very high pass-along rate, sometimes as much as 1,500 people from just one Amber Alert for Pets member.
In addition, to email and social media alerts, the Amber Alert for Pets team offers other creative ideas people with lost pets can use on the ground in their local area (or wherever the pet went missing).
Call it fate or whatever, but mere hours after I spoke with Bill last week, I got news that dogs belonging to a neighbor's nephew had been stolen in Ukiah, California. I got the family in contact with him, and I launched a social media blitz to help out.
I spent several hours each day last week … pushing the news that these dogs needed help, and I'm happy to report that they were indeed found and returned home.