Kissing Booth Dog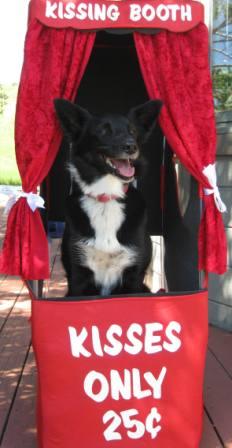 Here is the video we promised. Lilly's newest and (we think) funniest one to date. If you agree, please share far and wide … and let's see if we can get it to go truly VIRAL.
Next week, I'll write more about the dog training behind this trick and other "making of" details, including what signals Lilly is throwing at me.
But, for now, please enjoy … and don't miss the little tail wag from our silly, silly canine heroine.
If you cannot see the video embedded below, use this link:
Lilly, the Kissing Booth Dog from Champion of My Heart

***
Champion of My Heart is so happy to be one of four finalists in the 2011 Petties (DogTime Media Best Dog Blog Award). We appreciate any and all votes. You can vote each day (1-2 times). Voting runs from July 5 through July 29.
Cannot see a VOTE button when you click through? Hold down your SHIFT key and click the page reload icon in your browser.
Please VOTE Champion of My Heart as Best Dog Blog! … so that we make make a $1,000 to our favorite animal shelter/rescue group.