Book Review: Quincy Tahoma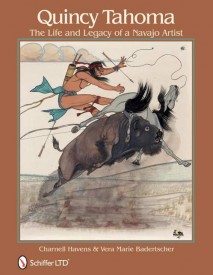 Truth. Writing is hard. Greater truth. Primary research is harder, especially when the subject led an elusive, often-desperate, carousing sort of life. That's one reason (among many) Quincy Tahoma: The Life and Legacy of a Navajo Artist is such a triumph.
The details dug from scraps. The real-life characters interviewed. The piecing together of biographical bits astound me nearly as much as Tahoma's life story and artwork.
Authors Charnell Havens and Vera Marie Badertscher, a couple of sorority sisters going way back, weave the various narrative threads with skill I doubt I could manage on my best day.
What first seems like an "art history" book, Quincy Tahoma casts a broader biographical net — catching painful, telling insights into flawed social, legal, and educational systems in the process.
It's no wonder Tahoma drank himself to death at such a young age.
Images of Horses, Dogs
Many of Tahoma's paintings feature striding, epic, glorious horses, so our equine-loving friends will enjoy that aspect.
Some also include dogs, reflecting the Navajo sheep herding tradition and the ever-present coyotes and wolves. Clearly, however, Tahoma didn't pay much attention to dogs in life because the ones in his paintings shine with only a fraction of the passion seen in his horses.
I say that both as a dog-lover and as a girl who minored in Theory and Practice of Art (art history + studio classes) in college. There are many things I like about Tahoma's paintings, but the way he generalized dogs isn't among them.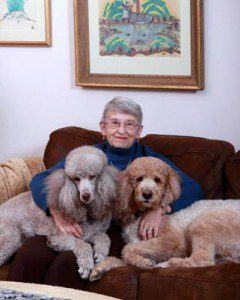 One untitled painting (circa 1951) depicts a young girl teaching what looks like a red border collie to sit up and beg. A few sheep graze in the background.
Girl. Dog. Sheep. What's not to like?
Alas, the copyright issues around posting images of the paintings prevent me from being able to show you that one dog-centric example of Tahoma's work.
Instead, please enjoy this photo of Havens and her dogs (Paisley and Yogi Bear).
Olde Time Social Media
One of the funniest little tidbits the authors dug up on Tahoma is that he gave people pictures of himself, which was unusual at the time. But, the more I think about it, it isn't that different from those of us who use photos as our online "avatars" these days. Perhaps, he was simply WAY ahead of his time when it came to name / face recognition in his social connections.
Another Dog Beat Us to It
Here, Lilly and I thought we would be the first canine-centered team to review the Tahoma book, but another pooch beat us to it. Check out this Ecco D'Oro book review.
Book Reviews, Blogs, More about Quincy Tahoma
You can learn more via the Quincy Tahoma Blog (and buy a copy of the book while you're there), on the blog / book Facebook page, via the Quincy Tahoma authors on Twitter.
I also found these interviews and additional content fascinating.
The Writer's Inner Journey (Q&A with Badertscher about writing process)
Reel Life With Jane (discussion of the depiction of Native Americans in film)
Gather (interview with the authors)
Wandering Educators (Navajo road trip music)
*** FTC Disclosure
I purchased my own copy of Quincy Tahoma: The Life and Legacy of a Navajo Artist (Schiffer Publishing Ltd, 2011). I do, however, know Badertscher professionally and offered to review the book in hopes of assisting in her book's success. Plus, many of the paintings do have dogs in them, so …