House Trained is the third novel by Jackie Bouchard that Champion of My Heart has reviewed in recent years. At this point, you can assume we're fans. Big ones. This is going to sound weird, but stay with me. This book is so good, so enthralling, I almost barfed. Long story. It's a good thing. Trust me.
FTC Disclosure: I received a Kindle version of the book for free, but I was NOT paid for this book review.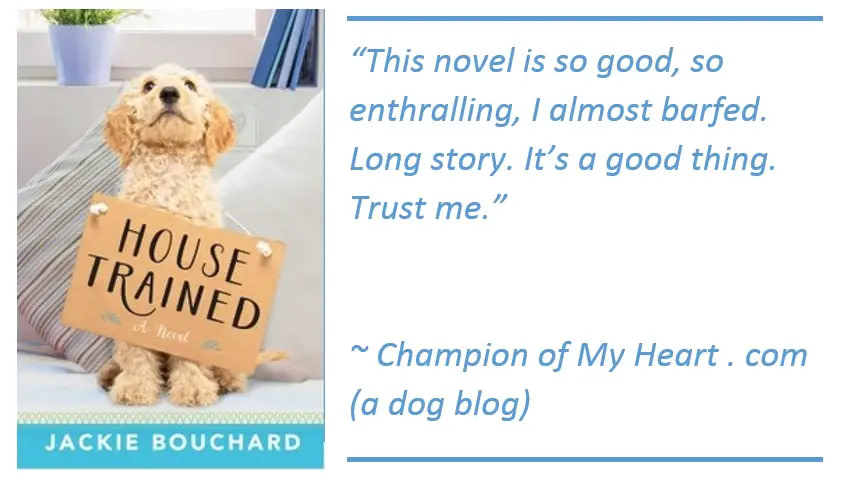 Grief Has Nearly Killed My Ability to Read Books
I'm painfully behind on everything related to the blog, including book reviews I've promised. It's partly because raising two herding dog puppies and the same time is incredibly time and energy intensive. It's partly that Ginko required SO MUCH care in his final months. It's also because all of the compounded grief over so many years has greatly hampered my ability to focus on reading. I am by nature a voracious reader, always have been, but I seem to have lost that magic — at least for a while. So, this book review and the 3 others already promised are off schedule.
That's the bad news. The good news is that I actually read House Trained by Jackie Bouchard back in September 2015 while flying to and from a consulting project. It seems the ONLY place I can read is on a plane.
Book Review: House Trained by Jackie Bouchard
As we've come to expect from Bouchard, House Trained is funny and touching. It presents real life and all it's intricacies without too much sugar coating. And, in this case, it begins when a couple (Alex and Barry) find out that Barry has a college-age daughter he never knew about. Things get a lot more complicated from there, but there is also a very cute Labradoodle named Marie to keep things interesting.
House Trained is a great story, with a huge ending, and that's where we get to the point of me almost barfing.
You see, I'm not the heartiest of airplane travelers. Descents and landings require my full concentration and ginger candy to keep my stomach in check.
Except, I was at the MOST exciting part of the book — lots of drama and emotion and resolution. I was so enthralled that I forgot to pay attention during landing. I didn't actually barf, but I felt like I would. Not just on the plane. No joke. I had to find a ladies room on the concourse at Denver International Airport after we landed and sit down for quite a while before I felt like I could walk to my car and drive the hour + home.
So, there you go. House Trained is so good that I could read it when I struggle to read pretty much any book these days. House Trained is so good that I forgot to tend to my tummy.
I suggest getting a copy if you're going on a springtime vacation or just hanging around with your pups.
**
Other Reviews of Books by Jackie Bouchard
**
Oh, and here are some bonus photos of Clover and Tori playing in the deep snow this morning.