Summer reading recommendation! A Violet Season by Kathy Leonard Czepiel is a fantastic read. Set in the Hudson River Valley in upstate New York in the late 1800s, A Violet Season chronicles one growing season on a family-owned violet farm. Brothers embroiled in a long-standing feud change the course of (at least) one woman's life forever.
A story of mothers and daughters, husbands and sons, A Violet Season delivers the perfect mix of historical detail, carefully crafted characters, and rich narrative. Heart-pounding at times, heartbreaking at others, A Violet Season's imagery and undercurrent of societal unrest does justice to an earlier time and sheds light on the challenges we face today.
Beyond the farming and family strife, however, A Violet Season also reveals insights into the early stages of what became women's suffrage and what was later called the women's movement.
You might think because this historical novel's backdrop involves growing flowers that it's merely a pastoral scene made into a novel, but you'd be wrong.
Some sections are downright thrilling, mysterious, and suspenseful. I'm not joking. My heart was racing, several times. I almost couldn't turn the pages fast enough.
I recommend this book with my whole bookworm's heart.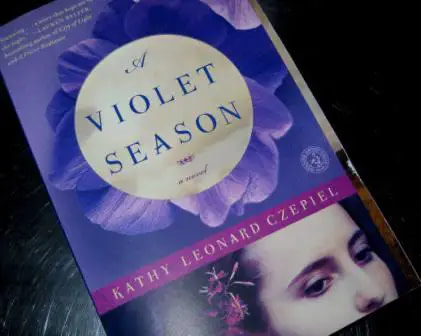 Check out A Violet Season trailer video, with author Kathy Leonard Czepiel talking about the book.
And, because I can find even the smallest dog reference in just about anything, I share these two snippets.
A Violet Season's Praying Bull Terrier
The book also includes a vignette (based in fact) of a bull terrier, owned by a riverboat captain, who bowed his head "like a serious old monk" as if praying for the passengers, until the captain said, "Amen." Once released from his pastoral duties, the terrier then cruised the crowd for children "in search of their approval."
A Violet Season's Dog-Walking Rebel
A Violet Season sports one "liberated" female character brave enough to wear "split skirts" while she "walked her pet dog — a silly, citified thing to do … "
A Violet Season Giveaway
Post a comment to this blog post before Midnight (mountain time) Sunday, July 22, 2012, to enter to win my one extra paperback copy of A Violet Season. One entry per person. I'll do a random drawing next week to pick a winner. I'll email that person to get a mailing address.
**
FTC Disclosure
Kathy Leonard Czepiel mailed me a free review copy of her debut novel (A Violet Season), in part because she is a friend of mine going back to our time as work colleagues at the American Animal Hospital Association in the late 1990s. However, I also bought with my own money both the Kindle version of A Violet Season and a paperback of the book. I was not compensated in any way for this review … unless you count getting an unexpected mention in the acknowledgments, merely for offering a social media crash course during a dinner last spring in New York City and a few email consults here and there.
A Violet Season by Kathy Leonard Czepiel
Simon & Schuster
July 10, 2012
A Violet Season Paperback – $15
A Violet Season Kindle version – $9.99
***