It's official. The girls of Champion of My Heart, along with several members of our blogging coalition, will launch our Be the Change effort September 1. You can read all about it on our new microsite called … Never Shock a Puppy.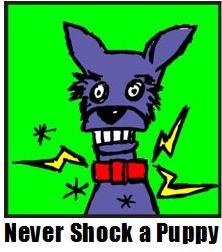 There is still a boatload of work to do on the new site and such, but here are a few details.
8 Weeks of Content
We've planned 8 weeks of new blog content. Each Wednesday between Sept 1 and Oct 20, we'll post on topics, including the Top 5 Reasons People Turn to Shock Collars (and other punitive training tools) and dog training options we recommend instead.
Great Prizes
We've gathered prizes to give away 5 of the 8 weeks that include:
Worthy Cause
In the process, we'll raise $2,500 for the Humane Society of Boulder Valley's No-Choke Challenge, which will include all kinds of media outreach as well as events where they will give away humane dog training tools to people who turn in their choke/pinch/shock collars in Boulder, Colorado.
The No-Choke Challenge is s set to launch in November 2010, after the humane society finishes up with the big ASPCA $100K Challenge to rescue more pets in August, September, and October than they did during the same period in 2009.
Essentially, the money we raise during the initial 8 weeks of Never Shock a Puppy will buy about 165 humane collars/harnesses to give away.
P.S. Vote for Us?!
Honestly, meeting this fundraising goal is the BIGGEST reason I hope to win this DogTime Best Dog Blog Award. The winner in each category gets to make a $500 donation to the pet charity of their choice … and for US, that's the Humane Society of Boulder Valley, where we adopted Lilly.
So, if you have NOT yet voted in the Dog Blog Award Contest, we hope you will today. You can vote once for each email address you have, and we would greatly appreciate your vote. (We'd really love it if you could get your friends and family to vote for us too.) Voting ends Aug 20 (that's this Friday), and the awards will be given during BlogPaws West in Denver in early September.
There is EVEN a Store
We even created a little Cafe Press Store for Never Shock a Puppy Merchandise, if you'd like to help spread the word that way.
Want to Get Involved?
We would LOVE your help!!!
1. Post our Never Shock a Puppy badge on your site.
2. Post our Never Shock a Puppy donation widget on your site.
3. Blog about our efforts and encourage people to visit the site (and donate).
4. Share links to our Never Shock a Puppy posts on Twitter, Facebook, etc.
5. Join the conversation via comments on the Never Shock a Puppy Blog.