Barely Frozen Pond Safety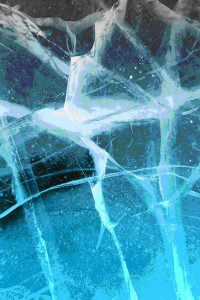 Our crazy-cold spring means finding our pond somewhat frozen many mornings. That's a real risk.
One of our neighbors lost a new Lab puppy, after he fell through ice on their pond.
So, I'm super careful to supervise Lilly and Ginko.But, a few weeks ago, Lilly flung her ball at me, and it skidded onto the ice. She went after it.
Thankfully, Lilly has a pretty solid LEAVE IT and a decent WAIT under her dog-training belt.
I'm sure the urgent tone of my voice helped convey how serious I was in this instance.
With Lilly dancing in anticipation on the pond's bank, I hunted around for a stick long enough to bat the ball close enough to the edge to grab.
I laid down on my stomach in the cold, damp muck and stretched as far as my little self could. Lilly found the entire process beyond fun, but she did not try to walk out on the ice. As instructed, she waited for me to safely retrieve the ball.
Our dog trainer (Gigi Moss in Boulder) teaches that dogs should NEVER enter water without permission. That's a good policy, if you only run across water on hikes and such.
Because our dogs have access to the creek and pond on our land, that strategy isn't as practical.
There are times I prefer they not get wet and muddy, and I'm able to call them back before hearing the distinct SPLOOSH of them piling into the pond.
As the weather warms up, though, that gets harder. And, I have a couple of damp, smelly pups with which to contend.
How do you handle water safety for your dogs?