As you may recall, during Ginko's recent knee surgery, the surgeon found icky fistulas (or channels through soft tissue, where infection had burrowed in). He decided to culture a couple of those spots, just in case the infection required some super-duper kind of antibiotic. Essentially, they swabbed a couple areas and grew them in petri dishes to see what sprouted.
Over the weekend, we got good news. It's a run of the mill staph infection. No horrible MRSA, which some researchers warn pass from pets to people. No creepy flesh eating bacteria. Just plain old staph.
(P.S. I could swear I read somewhere that a veterinary hospital had looked more into their patients with MRSA and found that it had come from people to pets, not vice versa … but I cannot find that reference this very second.)
Anyway, the Batryl that Ginko has been on since his surgery is just fine. It should do the job. He took his last antibiotic pill this morning.
His staples come out next Monday. So, our regular vet can check how the healing is progressing.
House Arrest
But, Ginko has been stuck inside at home per the surgeon's orders for two weeks of pretty strict rest.
That means he can wander around the house as he likes. And, he can go out to our chain-link dog pen off the garage to potty, but that's it.
No playing. No running. No jumping, etc.
Thankfully, Ginko is a pretty good patient, so it hasn't been too rough.
Once we get the OK, I'll probably take him out on leash for another week or so to wander around outside. What's that phrase from the movie "Hope Floats"? … and blow the stink off him?
Lick Prevention
We've required Ginko to wear his Bite-Not collar so that he doesn't lick the knee when he is sleeping in his crate or when we cannot watch him. But, I try to give him as much freedom as I can.
If, however, hear him fussing at the incision, then it goes back on.
At first, we kind of let him fuss his front legs, where they shaved him for IVs … in exchange for him NOT bothering the knee, but he got a little over zealous and created one spot raw. Stinker!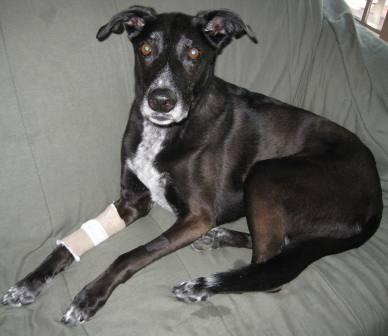 So, we've gone with taping part of an old sock to his leg. It's not fool proof. He is quite good at getting the sock off, but it's better than nothing.
Here is a close-up. You can see the shaved spot on his other leg is growing back nicely. I'm not sure why one side bugs him more than the other, but we're hoping this spot heals up soon.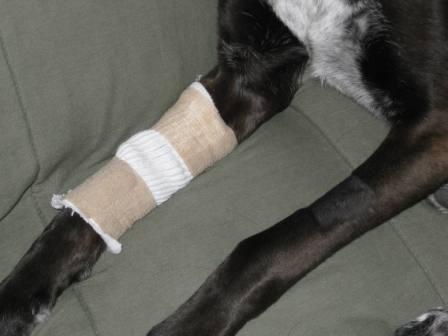 Still Startling
I've mentioned before that Ginko suffers moments of extreme pain, where he jumps, screams, and trots a few steps.
Alas, he continues to do that a few times a day. It's nowhere near the frequency that he had before the surgery, but it still happens despite the two different pain meds we're using on him post-op.
We hope it continues to diminish as he heals. Stay tuned.