Thanksgiving Memories: Tom and Shep
For his birthday this year, Tom's mom made a photo album of his childhood snapshots. Featured prominently on the title page is this gem of Tom (approximately age 8), a few sunflowers, a huge tomato and a border collie (named Shep, who was actually Tom's brother's dog).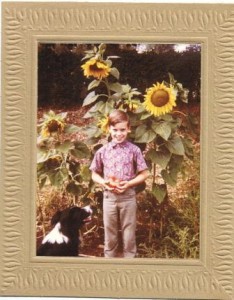 As a kid, Tom only knew that Shep went ballistic once in a while. Shep chased cars. Shep also hated anytime the kids got above him … like up on a roof or in a tree. Later the family had sheep in the back pasture, but Tom doesn't remember Shep herding ever, so they must have come later.
Looking back, with what Tom knows about border collies through Lilly, he understands all those nutty things Shep once did in a better light.
All hail, Shep. I wish I'd known you.
***
This Thanksgiving let's be grateful for our canine pals who truly do shepherd us through life.
All of us at Chez Champion of My Heart wish you a happy holiday!