Shock Collar on the Brain
Many of the Never Shock a Puppy coalition members attended BlogPaws West in Denver, back in September.  We even enjoyed a team dinner one night. I was so touched that Debbie Jacobs from FearfulDogs.com brought Lilly and Ginko a gift.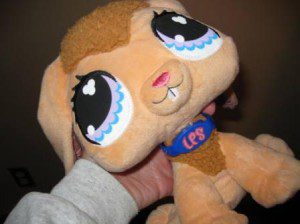 She picked up this toy at a thrift store while getting some for her dogs to rip up.
Maybe we'd all been thinking about shock collars WAY too much during the campaign, but she was aghast that this kid's toy indeed appears to be wearing one.
If you look closely, you can even see two nodes on the top of the round thing on the collar.
I have no idea what character this thing is, but the dogs LOVE it. Ginko brought it to bed with him several nights.
We've since cut the collar off for safety reasons, but the toy has indeed become part of the legions of "babies" my pups enjoy.
P.S. I just did an article for WebMD on pet gift possible hazards. I find the quote about why kids toys might not be safe for dogs particularly interesting.